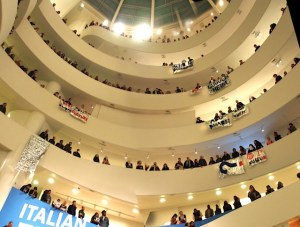 The Guggenheim has released a brief statement in response to the protest involving banners and bugles that broke out at its Fifth Avenue branch last Saturday. The flashmob style demonstration, a joint effort from artist and activist groups Gulf Labor and Occupy Museums, was targeting the museum's plans to build a satellite location on Saadiyat Island in Abu Dhabi. According to Gulf representatives, the construction is being undertaken by indentured South Asian laborers who are exploited in numerous ways. 
The online statement from the museum reads: 
"The Solomon R. Guggenheim Foundation is engaged in ongoing, serious discussions with our most senior colleagues in Abu Dhabi regarding the issues of workers' rights. As global citizens, we share the concerns about human rights and fair labor practices and continue to be committed to making progress on these issues. At the same time, it is important to clarify that the Guggenheim Abu Dhabi is not yet under construction."
For photos, video and full story on the protest, check out Gothamist's on-the-ground report.