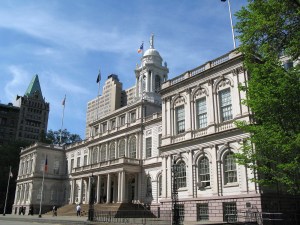 Last week, the Daily News' gossip page took a break from covering Justin Bieber to report on something less flashy but more pertinent to our interests: A top City Hall reporter, Capital's Sally Goldenberg, is dating Mayor Bill de Blasio's press secretary, Phil Walzak. The couple started dating on the campaign trail and have since become a serious item, said the tabloid. 
Capital co-editor Josh Benson told the Daily News that Ms. Goldenberg had told her bosses about the relationship early on and the website "set up protocols internally to ensure the objectivity of our coverage." 
What kinds of protocols could really ensure objective coverage when a reporter covers the administration that her boyfriend represents?
"When Sally disclosed the relationship with Walzak to me, we established that she'd deal only with other people in the press office and would recuse herself from any story in which he's directly involved," Mr. Benson told Off the Record. "The appearance of the potential conflict matters, obviously. But this was a judgment call, based on the fact that I still believe she's the best person for the job and will continue to produce outstanding, not-replicable coverage of this administration." 
During her almost six years at the New York Post, Ms. Goldenberg developed a reputation as a tough reporter, and her coverage of the de Blasio administration has been consistently hard-hitting. Still, it seems difficult to avoid the potential for awkwardness. 
We emailed The New York Times Standards Editor Phil Corbett to ask what the paper of record, with its notoriously strict ethics policy, would do in a similar situation.
"Basically, reporters should discuss such a situation with their editors to determine if anything needs to be done about it," Mr. Corbett wrote in an email, explaining that he is "always a little dubious about responding to hypotheticals" and directing us to paragraph 24 in the Times' handbook. 
"Clearly, romantic involvement with a news source would foster an appearance of partiality," the handbook says, before noting that it's on a case-by-case basis. 
But purists say there's no gray area. "This is a real conflict of interest. If the reporter wants to date the mayor's press secretary, the reporter has to give up the City Hall beat," said Steve Shepard, the former editor of BusinessWeek and founding dean of CUNY Graduate School of Journalism, when we posed the situation to him as a hypothetical. "Abe Rosenthal, when he ran The New York Times, supposedly said, 'I don't care if my reporter sleeps with an elephant, but he can't cover the circus.' Something like that." 
(Actually, Mr. Rosenthal used a more colorful verb).
But Stu Loeser, Michael Bloomberg's former press secretary, likened the situation to romantic relationships that commonly develop between newspaper reporters who cover the same beat for rival publications.
"Complications are more the rule than the exception," said Mr. Loeser.
Regardless of said complications, there is a lot of dramatic and comedic potential. Just ask Aaron Sorkin, who got a lot of West Wing plot mileage out of a press secretary dating a White House correspondent.