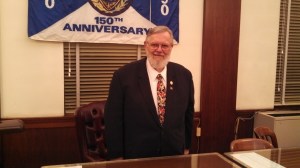 A still saddened Harrison Town Council awarded James A. Fife the mayoralty last night.
The town's longtime leader, Raymond J. McDonough, died in office two weeks ago.
"While the Council members are still in mourning and sad over the great loss of Raymond, they are also grateful to have found a replacement with impeccable credentials and unquestionable character," the Town Council said in a release.
Tasked with filling the vacancy at Town Hall, the Council last night unanimously selected Fife, the first of three nominees presented by the Harrison Democratic Committee pursuant to the New Jersey Municipal.
With the support of local Democratic Committee Chairman James P. Doran (also a councilman) and the Democratic Committee, Fife outdueled Harold Stahl and Maria Vila.
After graduating from Montclair State University with a degree in history/social studies, former high school swimming champ Fife worked a social studies teacher at Harrison High School. He earned masters degrees in student personnel/guidance and administration/supervision from New Jersey City University and William Paterson University. In 1982, he became the principal of Harrison High School, a post he held for eleven years.
He is a former Commissioner of the Hudson County School of Technology, and member of the Harrison Redevelopment Agency, the Harrison Board of Education, the Hudson County Board of Education, and the Hudson County Community College.