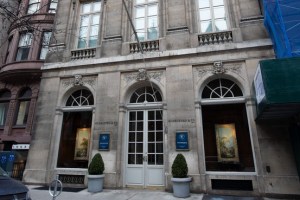 When the Qatari Prime Minister Sheikh Hamad bin Jassim bin Jaber Al Thani snapped up 21 Beekman Place for $35 million last June, just days before he left his post as part of a regime change in which the long-ruling emir Hamad Bin Khalifa Al Thani handed power over to his 33-year-old son, we thought we had seen the end of Qatar's real estate shopping spree. After all, the sun-flooded East River townhouse was the second that the sheikh had bought in as many years—the first being Aby Rosen's $48.5 million townhouse at 22 East 71st—and two townhouses seemed, at least to us, a bit excessive, even for a sheikh. Especially given that Qatar and its ruling family already possess an extraordinary amount of rarefied Upper East Side square footage. Most notably,  a 45,000-square mansion at 7-9 East 72nd Street, which has the distinction of being the largest single-family residence in all of New York, as well as a 28-foot townhouse at 43 East 70th and diplomatic space at UN Plaza.
But apparently the peaceful regime change, as well as the rumored discovery of yet another site to harvest liquefied gas—the resource that has made Qatar ridiculously rich—has only whet Qatar's appetite for trophy properties. Specifically, Upper East Side townhouses. On Thursday, The Wall Street Journal reported that Qatar had signed a contract to buy the Wildenstein art gallery at 19 East 64th Street, with plans to turn the Beaux-Arts limestone beauty into a consulate. The sale of the townhouse was notable not only in that it marked the first time the property has sold (it first opened its doors as a gallery and office for the Wildensteins in 1932), but because it seemed poised to break a new residential record.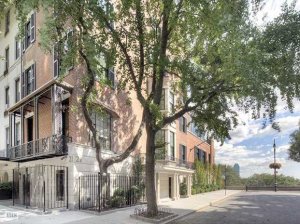 But while sources told The Observer that the sale, when it closes, is unlikely to shatter the $88.5 million record set by Sandy Weill's 15 Central Park West penthouse, the buy certainly puts Qatar's seemingly insatiable appetite for Upper East Side townhouses on full display.
(Though The Journal reported that the townhouse "is expected to fetch more than $90 million" and The Post raved about a $100 million contract for the five-story building, Douglas Elliman, which represented the buyers' brokers Tal and Oren Alexander, has refused to confirm a contract price and a source with knowledge of the dealings told The Observer that the house had gone into contract for a mere $88 million.)
"The crazy thing is, they're still looking for more things to buy," one broker told The Observer. "Which would be wonderful, if they weren't so cheap. They're always trying to bargain everything way down."
Indeed, the former prime minister scored a $13.5 million discount on 21 Beekman—which had originally been asking $48.5 million—with all the furniture included. The $28 million discount on Aby Rosen's townhouse, which was originally asking $75 million, was even more breathtaking. Meanwhile, the emir, when he bought 7-9 East 72nd from the Lycee Francaise in 2010, paid just $26 million, far less than the $51 million the school had hoped the property would fetch.
"They are very savvy buyers," another broker said. "And yes, they're still in the market to buy more property. They have a large number of people looking at all times for possible deals. And they have been looking at some huge, huge properties."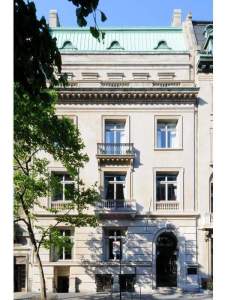 (They might start by checking out another former Wildenstein property—11 East 64th Street, which last sold for $42.5 million in 2008—and is rumored to be whisperlisted with Corcoran's Carrie Chiang, who also had the 19 East 64th listing.)
"It would seem that the agenda is to expand the profile of the country with international investment as they have done in London and Paris," said Paolo Zampolli, a UN ambassador and Douglas Elliman broker who represented the buyer on the 21 Beekman deal.
Still, the government and its heads of state would seem to be running out of uses for their many townhouses. Though the Wildenstein gallery on East 64th will house the consulate, which The Observer heard is currently holed up at the Ritz, and 21 Beekman is being used as an ambassadorial residence, the former emir and his family apparently have all 45,000 square feet of the East 72nd manse to themselves. Meanwhile, the 28-footer at 43 East 70th, the former ambassadorial residence that was said to have been last occupied by Qatari princess Sheikha Al-Mayassa bin Hamad Al-Thani, seems to be sitting empty, the unshoveled sidewalk out front making the neighbors apoplectic. (But then, when aren't Upper East Side neighbors apoplectic?)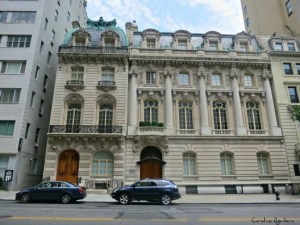 Still, can a resource-rich nation really ever have too many townhouses? Sure, the entire country of Qatar, which did not respond to The Observer's request for comment, may have only 250,000 people, but when has need ever played a role in the acquisition of trophy properties? Besides, Qatar's recent spree in Manhattan is nothing compared to their real estate binges in Europe, according to one broker.
"New York?" the broker chortled. "They've been really quite calm in the market here—very, very minimal compared to what they've bought in Paris and London."