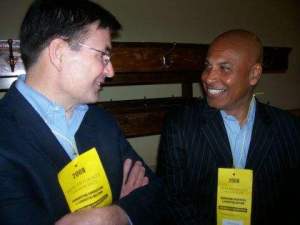 Mercer County Executive Brian Hughes won't run for Congress this year.
"We need a progressive woman in Congress," Hughes told PolitickerNJ. "I got to be county executive because lots of people – including Trenton Mayor Doug Palmer – backed me."
Hughes said he was blessed to have the job he has now on the banks of the Delaware, and said he loves Mercer and wants a representative from Mercer to replace retiting U.S. Rep. Rush Holt (D-12).
The news is advantageous to Assemblywoman Bonnie Watson Coleman (D-15), who is coalescing support in her home county of Mercer.
Hughes wouldn't immediately endorse Watson Coleman but sources say he is headed in that direction.
He later issued a full statement:
"I've thus far enjoyed a productive and rewarding 10-plus years as Mercer County Executive, and I feel a strong sense that when I ran for a 4-year term to represent the people of Mercer County, I accepted an obligation to fulfill that term. I love this county and plan on keeping my commitment to it. Though this would not be my first try at a congressional seat, after consulting with family and friends, not insignificantly my brothers Michael Murphy and John Hughes, I've decided that what our New Jersey congressional delegation needs is the presence of a strong progressive female, and that Mercer County would be best served if, like Rush Holt, that representative was a resident of Mercer County. Born along the banks of the Delaware River, I've been blessed to raise a family and enjoy a prosperous career in public service along its shores. I would not trade such good fortune for the Potomac." – Brian M. Hughes, Mercer County Executive