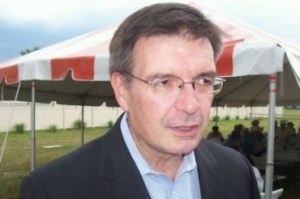 Mercer County Executive Brian Hughes says he'll seriously consider the possibility of running for the congressional seat set to be vacated by U.S. Rep. Rush Holt.
"I'll be looking at it very hard," Hughes told PolitickerNJ a short time after Holt announced he would not seek re-election.
"I ran for Congress against [U.S. Rep] Chris Smith back in 1992 and I've always had an interest in it," Hughes said. "I'd have to sit down with my family and friends and figure out whether I'd participate or not, but it's certainly an intriguing offer."
Holt spoke with the county executive earlier today for 10 minutes and discussed his intention to not seek another term in office, Hughes said.
"He sounded as upbeat as I've ever heard him in all these years that he's been in Congress," Hughes said. "He just said it's time."
Hughes was first elected as county executive in 2003 and is up for re-election in 2015.