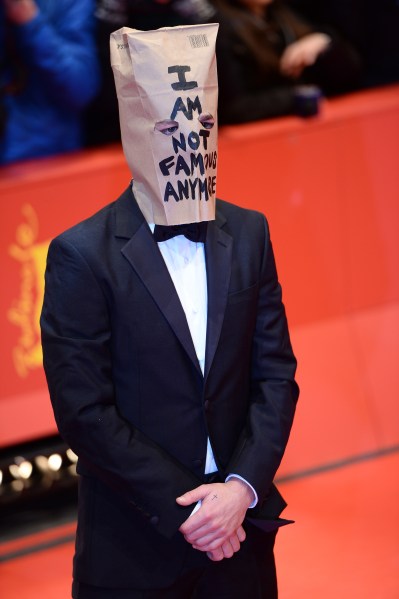 BERLIN, Germany — What's the best way to blitzkrieg the Berlinale? With an enfant terrible director and a terribly infantile actor. Lars von Trier and his cast, including unstable element Shia LaBeouf, arrived in Germany on Sunday for the world premiere of the 145-minute director's cut of Nymphomaniac: Part 1, an epic and hardcore exploration of one woman's insatiable libido. And they did not disappoint—especially Mr. LaBeouf, who walked out of the press conference after one question and later wore a brown paper bag over his head at the black-tie evening screening.
Edited versions of both Part 1 and Part 2 have already opened in Europe (they will be released in the U.S. this spring), but that didn't keep a rowdy international audience from eagerly filling up the Berlinale Palast at a noon press screening and clapping in petulant frustration when the movie started five minutes late.
Their lust was merited: Nymphomaniac is a fascinating portrait of sexual transgression, both cheekily blasphemous and achingly earnest, that stands as one of the filmmaker's crowning achievements. What's so intriguing about this director's cut, 30 minutes longer than the edited one (which made its U.S. premiere at a surprise screening last month at the Sundance Film Festival), is that it's just barely more explicit. All the actual sex scenes are intact in the shorter version, barring only a handful of reframed or replaced shots. What's missing: more story, more texture, more thematic resonance—all the elements that actually make a good movie great.
Banned from the Cannes Film Festival in 2011 after making Nazi remarks to promote his previous film, Melancholia, Mr. von Trier made his triumphant return to the world stage by opening his zippered sweater at the film's photo call to reveal a black T-shirt emblazoned with the Cannes logo and "Persona Non Grata" underneath (the moniker given to him by the festival). The Danish provocateur then slyly removed himself from the press conference (having famously taken a "vow of silence" regarding interviews with journalists), leaving the world press to pitch their questions to cast members, including Mr. LaBeouf, Uma Thurman, Christian Slater, Stellan Skarsgard and newcomer Stacy Martin (making her cinematic debut as the younger version of Joe, the titular character). 
"One of the best days of my life," Ms. Thurman gushed about her brief but hilariously harrowing turn as a wife whose husband leaves her for Joe. "An amazing experience," Mr. Slater declared. "I really didn't have anything to lose," said Ms. Martin, "it being my very first film."
And how about Mr. LaBeouf? "When seagulls follow the trawler," he said slowly, pausing for a sip of water, "it is because they think sardines will be thrown into the sea." Wait, what? No explanation was offered, since he immediately stood up and walked out to baffled applause from the cast and journalists. (Sharp observers later pointed out that Mr. LaBeouf was recycling, verbatim, a cryptic remark made by European footballer Eric Cantona at a 1995 press conference, right down to the laconic delivery, water sip and walk-out.)
The room, fazed by the incident, tried its best to rally back to normalcy. Responding to a question about directors pushing actors out of their comfort zones, a clearly stunned Mr. Slater stuttered out a reply. "Obviously the script is packed with a lot of, uh…uh…sardines," he laughed. "One sardine after another. There we go. There…we…go. I can't even remember the question, really."
That night, as the cast and crew walked the red carpet for the official Nymphomaniac screening, Mr. LaBeouf wore a brown paper bag on which he had written his now-famous Twitter remark, "I AM NOT FAMOUS ANYMORE."
Mental breakdown? Elaborate hoax? Jerk-off prank? Who really knows, although Bill Murray, who seems to be this year's de facto Goodwill Ambassador at Berlin, unwittingly offered one explanation even before the Nympho kerfuffle. Over the weekend, The Hollywood Reporter filed a piece about a Friday luncheon here announcing production on the new Barry Levinson comedy, Rock the Kasbah, where Mr. Murray was asked about Mr. LaBeouf, his co-star in the film. "Shia LaBeouf, I don't know," he said. "He's got a funny name. That's his problem … and cross to bear. It's like 'A Boy Named Sue.' He probably got beat up a lot."