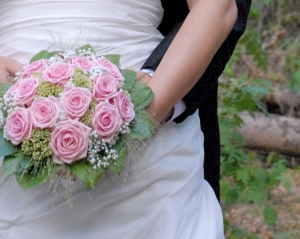 Brooklyn couple Monica Nickchemny and Felix Komrash wanted a wedding video they could proudly show to their loved ones during their reception.
So they hired film company Visualez, who naturally decided Mr. Komrash should play a transvestite and the video needed sound effects. A lot of sound effects.
The not-so-happy couple is now suing the film company, according to a Brooklyn Supreme Court suit.
"They wanted him to wear women's clothes, he would look like a woman, I would have to put him in a dress and he would fall in love with me," Ms. Nickchemny told the New York Post. "It was a very stupid story."
This came after the couple had paid Visualez $12,570 to make both the "love story" and film the wedding itself. When Ms. Nickchemny opposed the cross-dressing portion, Visualez threatened to not produce anything at all.
Come wedding day, the stuff Visualez actually did get around to doing wasn't exactly worth $12,000. The company missed both the signing of the Jewish wedding contract and a number of toasts.
The finished product, to the bride and groom's horror, including sitcom-esque glass breaking sound effects.
"When I was watching my wedding video it sounded like I was watching an episode of Seinfeld with the sound effects in the background," Ms. Nickchemny told the Post. "I was hysterical. I almost had a nervous breakdown."
The case over the wedding video about nothing is set at $72,000, according to the suit.
"They acted in such an outrageous way that it emotionally damaged my clients," attorney Mikhail Usher told the Post. 
We wonder of Visualez was behind the Seinfeld Super Bowl ad, too. That emotionally damaged us.