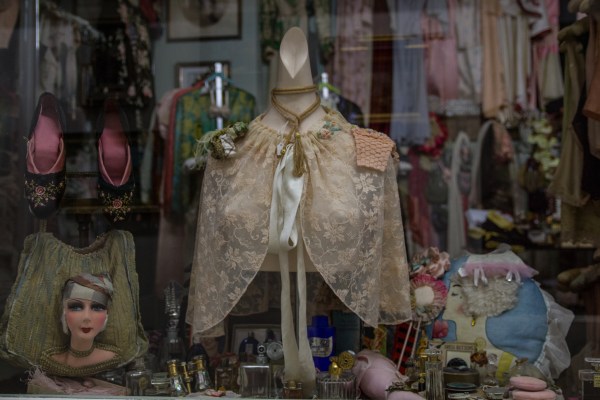 Though she is probably the world's foremost dealer in vintage lingerie, Illisa Goldman doesn't sell anything with tassles. She doesn't even like being asked about them. "Tassels? What do you think, you're gonna get a bra with tassels that they used to twirl around? I mean, I have no tassels." Exotic dancewear doesn't belong in the lingerie reliquary.
Illisa, who never goes by her last name, is the priestess and proprietor of Illisa's Vintage Lingerie, a stall on the sleepy second floor of the Showplace Antique & Design Center in Chelsea. Racks of slips, bras and camisoles crowd Illisa's tiny room. Rows of pom-pommed slippers ring the walls, and three-piece pajama sets hang from the ceiling. Asked for corsets or stockings, Ilissa, a spry 60-year-old, crouches into one of many cupboards.
Illisa grew up in Merrick, Long Island, but her young mind was elsewhere. "I was meant to be born in the 1920s doing the Charleston on tables," she says with a faraway look. It's a fitting dream for someone whose moment of worldly transcendence came when she tried on a silk charmeuse nightgown. "I was hooked," Illisa says. "I felt like a movie star." She began collecting.
Thirty years later, Illisa is our best link to a lost world of European lingerie that was handmade using the best fabrics, custom designed and bought, even in its own time, for hundreds of dollars. Customers of such upscale undergarments were wealthy, young American women trousseau-hunting on their Grand Tours.
 Despite all of the effort that went into making these delicates and the great prices they commanded, a combination of material fragility and the neglect of future generations ensured that hardly anything survived. What little did has regained some of its former glory—and all of its commercial value—due to Illisa's labors. She meticulously finds, cleans and repairs everything in her store.
Illisa estimates that 15 percent of her business comes from foot traffic; the rest comes from Hollywood, Broadway and major fashion companies. Eminences such as Azzedine Alaia and Jean-Paul Gaultier are longtime clients. Paz de la Huerta wore an Ilissa bathrobe in HBO's Boardwalk Empire, and Daniel Radcliffe wore a pair of her vintage men's underwear in the film Kill Your Darlings.
During a recent visit to Illisa's, I ran into Freddie Leiba, a stylist who over a long career has worked with the likes of Andy Warhol, Richard Avedon,and Beyoncé Knowles. "There isn't a shop like this anywhere," says Leiba. "Every designer from all over the world has been through here for inspiration, and I know because I've personally seen them here. She is the go-to person in America for this." 
The monopolist of what is almost a one-woman industry, Illisa charges what she wants for her clothes. Stockings typically cost around $100; bra-panty sets and nightgowns are usually $300 to $500. Shoppers who complain that this is nearly 10 times more than Victoria's Secret will, of course, skip Illisa's and go to Victoria's Secret.
Not only of a rarefied high quality, Illisa's lingerie collection is also encyclopedic, including everything from novelty bras to quilted bathrobes. 
The Lady
Bed jacket: A silk bed jacket dates back to the '30s. As Illisa says, "The art of being really sexy, and you know this, is not to show anything." Probably she doesn't mean to be taken literally—there are no vintage burqas in the store—but Illisa is a fervent believer in the sex appeal of veils and shrouds. Lingerie's trick is emphasizing precisely what it does not show. As such, this bed jacket's most prominent feature may be the knot that would undo it in a single stroke. Size: One size fits all ("Unless you're an elephant," says Illisa). Price: $245.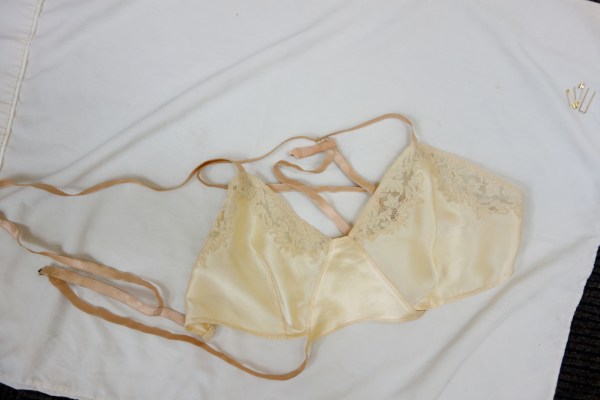 Bra-panty set: "The old over-the-top Hollywood glamour," Illisa says of an ecru bra and panty set. Its slinky lace and satin structure offers no support and no protection; this is a bra meant to be felt as much as worn. It was handmade in the '30s, and its bottoms double as tap pants. Size: 6. Price: $575. 
Pajama set: The top and bottom of this three-piece set are rayon, and the bathrobe is quilted. Not as sexy as much of Illisa's other bedwear offerings, these pajamas may be most appropriately used while eating dinner on a tray. Fittingly, their bright colors and floral patterning recall a large tablecloth. A clean one,  too: The pajamas are "store stock" items, meaning they have never been worn before. Size: 2 or 4. Price: $575.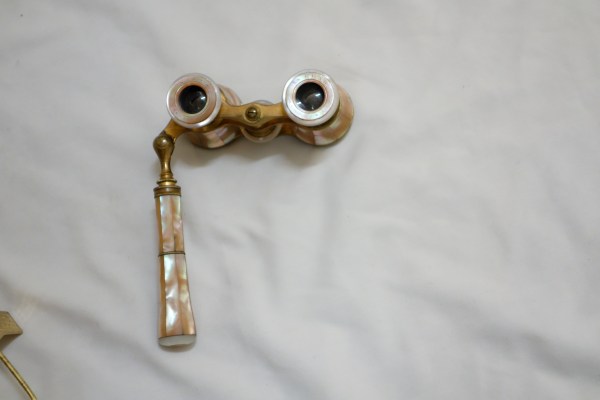 Opera glasses: Illisa's taste for retreads extends beyond lingerie. She's proud of her collection of '20s scarves—embroidered, lamé and silk—and has various other knickknacks and rarities. Among them are 100-year-old French opera glasses, made of mother-of-pearl and brass. Price: $385.
Or The Tiger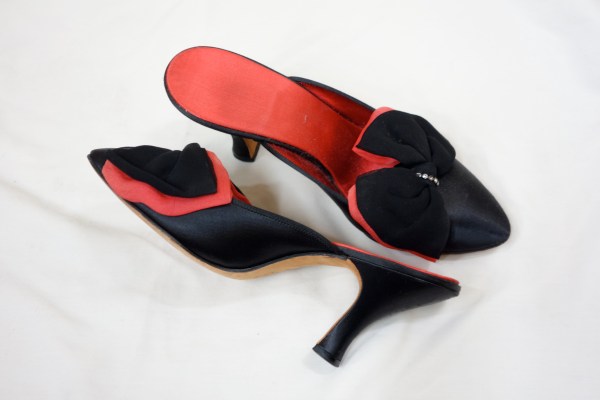 Slippers: Daniel Green designed a pair of 1950s froufrou satin mules; the bows are made of silk. In Illisa's shop, they provoke reverie. "It's just that everything was so glamorous back then—you don't see people wearing this stuff today." Except, of course, for Illisa. "I mean, I do, because I want to feel glamorous." Size: 5.  Price: $185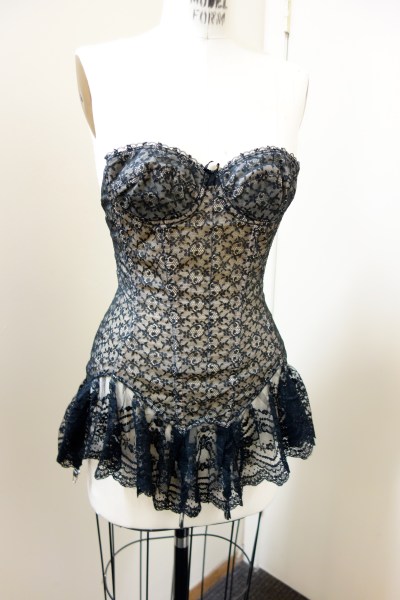 Corset: Illisa helped design the Bettie Paige biopic The Story of Bettie Paige, and a corset she has is one of Illisa's many pinup-girl items. Designed by French clothier Simone Perle with a lace flounce and lace garters, the corset may be too advanced for the ditzy blond, volleyball-playing pinups; it's for the dark, sultry woman who might still find herself on the spread of a postwar glossy magazine. Size: 34A. Price: $445. 
Bra: "Well, this is naughty," says Mr. Leiba. A nipple-less novelty bra—"very rare!" according to Illisa—it is from the late '40s. Size: 34B. Price: $335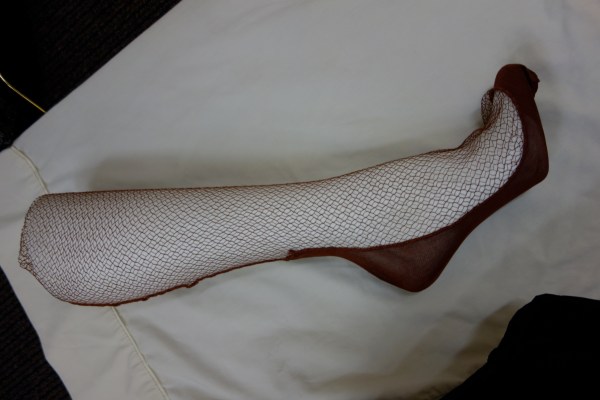 Fishnets: "They're the original fishnets! I learned something yesterday," says Mr. Leiba, who has just heard Illisa's spiel about these historic stockings. "I taught the master something?" Illisa asks. "Oh, my goodness." These fishnets are made from rayon and silk, and they include a Cuban heel, an old-fashioned reinforcement at the stocking's base. "Unless you got them caught on a picket fence, they would last forever," says Illisa. Size: any up to 8. Price: $95.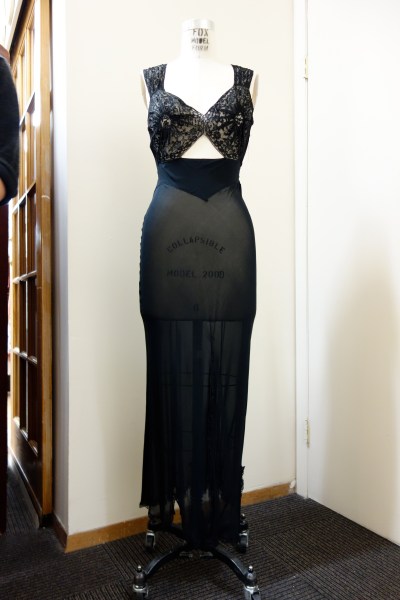 Nightgown: While certainly a gown for the nighttime, one might wonder if this garment is in any functional sense a "nightgown." Made with silk and a lace top, it dates from the late '40s or early '50s. Given that the dress is almost completely transparent, its floor-length skirt and wide shoulder straps were perhaps designed as a joke. Size: 4. Price: $495.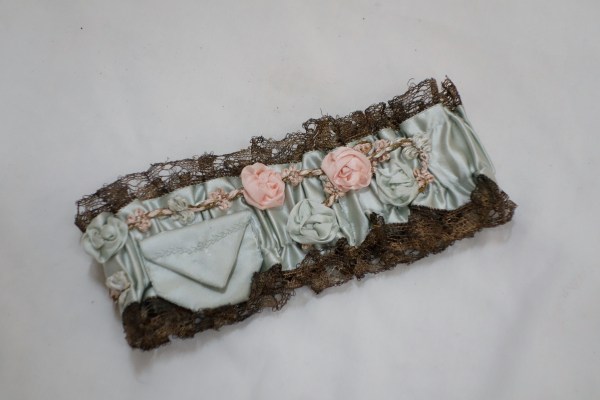 Garter:  This handmade '20s garter is decorated with a real '20s flower, lamé-made lace and a tiny secret pouch. "I was told they used to put coins in there," says Illisa—"or cocaine. They used to do a lot of cocaine back then!" Size: One size fits all. Price: $365 ("because they're beyond rare").