In birding parlance, a life bird is the first bird of a species a birder sees. Birders remember life birds and often keep precise records of where and when they first spotted one. I'll never forget my first Cedar Waxwing (fall, Meadowlands, N.J., 2006), Gyrfalcon (summer, Lucky Peak, Idaho, 2003) or McNugget (Winter, McDonald's, the Main Line, 1983.)
But these are dark times for birders. We live simultaneously in a world overrun with birds and a world in which birds are being drummed out of the skies. According to Stanford researchers, 1,200 species of birds will be functionally extinct by 2100. And yet those twerpy little blue fuckers from Twitter are the omnipresent mascots of our interior lives.
The same strange frustration can be felt by ornithologists who haunt the coat-choked vestibules, chatter-clogged dining rooms and windswept kitchen habitats of restaurants. We should be having a banner year for the birds. One can steadily track the proliferation of a species of birdy restaurants from Red Rooster to Charlie Bird. This is called A Trend. One can also find birds on more menus, but with a few exceptions, these are ungainly creatures, featured in spite of, not because of, their wings. This is called Fried Chicken. (A cheering exception is the precipitous rise of the roast chicken for two.)
---

Mountain Bird
★★★★
231 W 145th St, New York, NY 10039
Phone:(212) 281-5752


43-15 Crescent Street
Long Island City, N.Y.

---
Throughout the restaurant world, one can hear the steady-state buzz of nominal birdsong, passerine logorrea, 140 characters times infinity. This is called Hype. But for the most part, great birds have proven remarkably flighty.
Poultry, though the second most consumed protein after pork, still lives out in the unloved coop in the backyard. Turkey, once considered for the office of national bird, has fallen into quasi-gimmickry, literally trotted out each year for a holiday we all hate. Chicken, meanwhile, isn't even deemed worthy of protection by the USDA. Duck is a niche meat for the rich. And as for the other, less commonly served fowl, from quail to ostrich, they're like the beautiful losers from junior high, remote, only occasionally fucked with but mostly ignored.
Thankfully, bird sanctuaries do exist. The tenacious food birder is occasionally rewarded for his perseverance by spectacular glimpses of a rare species of restaurant that truly loves and serves bird. One example is Mountain Bird, a 19-seat mote of a restaurant in Central Harlem that opened a few months ago.
Mountain Bird is worth the trip, worth the wait and worth the trek through ankle-deep sludge and mounds of snow so hardened and dirty they look like rubble. From a kitchen the size of a walk-in closet, Chef Kenichi Tajima prepares the best poultry in the city in one of its most charming restaurants.
One won't forget Mountain Bird, for it is a life bird.
* * *
Date: Feb. 12 
Time: 9:15 p.m. 
Conditions: 25 degrees Fahrenheit
Precipitation:  Heavy snowfall through the day, waning by nightfall. No pedestrians on 145th Street between Frederick Douglass and Adam Clayton Powell, where the closed Union Baptist Church looms across from a Shell station as barren as a Hopper painting. Only Mountain Bird, a storefront with light-filled windows, looks alive.
Habitat: Casually but precisely French, a diorama of a bistro rather than a real one, everything positioned with care, from the equally spaced mirrors lining one wall to the black-and-white floor tiles spelling out "Mountain Bird." Even the diners seem plucked from a hobby store shelf. 
One thing missing is a waiter. The only person with whom you will communicate is Keiko Tajima, the restaurant's manager, and wife of the chef. Ms. Tajima is petite and favors black clothing, her manner contained yet kinetic. In her hands she holds a reservation book thick with crinkled pages. 
* * *
Any bird would be proud to find itself on the menu of Mountain Bird. The menu, which is classically French but seasoned with a subtle Japanese sensibility, is devoted to the pleasures of poultry. Of the 16 items offered, 11 feature a bird of some feather. Pork and beef are conspicuously absent. Fish runs as a special, but bird is the word.
The opening salvo, a four-element Taste from Head to Toe ($8), is the most powerful statement ever to arrive on a doily. Each Lilliputian bite is a distillation of a larger, more complex flavor. The chicken liver pate with port wine gelee on a coin of homemade pumpernickel inexplicably tastes like an entire chicken parmigiana sandwich—a good thing. A chicken's comb, often called a cock's comb, is cooked in vegetable stock, breaded, fried and dolloped with honey mustard tartar sauce. It's like a kid's menu item for adventurous foodie tweens—again, a good thing. Duck heart and gizzards are chopped into slightly escargooey chips and served in a garlicky herb sauce wrapped in pastry dough. It resembles chewy penne alfredo in bar mitzvah-ready form. And the only flaw in the chicken lollipop, glazed in rich black truffle sauce, is that chickens and lollipops are like a couple who should have divorced long ago. But the taste is so good, it's not hard to see why they just can't quit each other.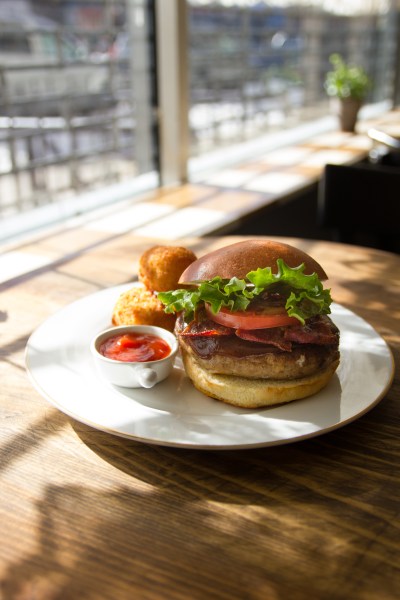 Even bigger flavor waits among the bigger fowl. A foie gras dumpling consommé ($7), which like everything arrives on porcelain flatware marked MB," is like delicious goyische matzah ball soup. The dumpling skins are wontonian, and the broth is liquid gold with translucent bubbles of fat. Inside, the foie gras and bread stuffing is heated by the surrounding broth so that both taste and texture evolve as one eats it.
Chef Tajima is hell-bent on proving the absence of red meat doesn't affect him. Instead of beef tartare, there's an ostrich tartare which tastes exactly like a Big Mac. You'll almost forget it's raw poultry. There's an all-poultry Toulousian cassoulet ($20), a hearty dish traditionally made with haricot blanc and an abattoir's full of pork. Mr. Tajima uses a recipe he learned from chef Philippe Bertineau at Payard Pâtisserie & Bistro but uses turkey sausage, a smoky turkey bacon, chicken gizzard confit and a confit duck leg to beef up the stew.
Duos dot the menu, perhaps because Mountain Bird is mostly a husband-and-wife affair, or perhaps because in poultry the Manichean bifurcation of meat into dark and light demands that one bird be cooked two ways. The best is a Moulard duck duo ($23) in which the dark leg, confited to such tenderness it falls from the bone like a sand castle, is surrounded by a lean-to of perfectly cooked slices of duck breast. A light huckleberry sauce complements the dish, and an almost ascetic mushroom pilaf with steamed vegetables assures that the bird remains center stage—for at Mountain Bird, that is where it belongs.
Does Mountain Bird presage a wider uplift of fowl? Can it finally make chicken and turkey fly? Probably not. It's too modest, and moo-cows and oink-oinks are formidable competition. But glowing softly on a cold night, doing its birds right in small bites, is it a beacon to which bird lovers can flock? Yes, for them it is a natural habitat.
What the Stars Mean:
★★★★★  Philosophy. Execution. Ambiance. Deliciousness. These powers combined form five stars.
★★★★  Largely successful with a few forgivable flaws but, yeah, generally awesome.
★★★  A valiant effort, though shortcomings consign it to mediocrity.
★★  Still not on the side of the angels but not, you know, the worst.
★  Pretty terrible but a glint of goodness.
(No stars)  An abomination.