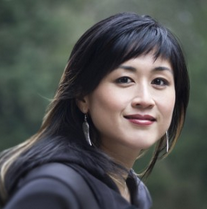 Last week, Valleywag published a disdainful list of "The Biggest Bullshit Job Titles in Tech," calling out kooky positions like AOL's "Digital Prophet" and Tumblr's "Fashion Evangelist." Betabeat wondered, What do these people actually do for a living? What, pray tell, does an "Innovation Sherpa" or a "Chief Happiness Officer" do all day? Are their jobs as illusionary as they sound, or are they just normal jobs with wacky titles? 
Our first interviewee was
Jenn Lim, CEO and Chief Happiness Officer
at
Delivering Happiness
. In simple terms, the company — which Ms. Lim co-founded with Zappos CEO Tony Hsieh — shows businesses, organizations and individuals how they can maximize their productivity by increasing their employees' — and their own — happiness. The idea for the company came from the success of Mr. Hsieh's 2010 book, 
Delivering Happiness: A Path to Profits, Passion, and Purpose.
Betabeat: So why do you call yourself "Chief Happiness Officer"?
Jenn Lim: It's essentially the CEO role. I put happiness in there because that's what we believe should be on the radar for all companies, since happiness is directly correlated to higher productivity, higher engagement…Really being able to show the correlation between happiness as a business model, and using our business model to show business success.
BB: Do you teach companies quick fixes to make their employees happier?
JL: It can be easy, but unless there is a real level of commitment from management and employees, then it just kind of falters. Real [happiness] culture isn't based on free Redbull or a ping pong table in a rec room. What we want to focus on is, what are your core values in your company? A lot of companies have them, but don't live by them. We work with companies to figure out what are your values, how do you actually live them behaviorally in your company?
BB: So what do you actually do with the companies you work with?
[Ms. Lim explained how Delivering Happiness rates the happiness of its clients' employees
using the "Happy Business Index,"
a survey modeled on Nick Marks's Happy Planet Index.]
JL: We take a snapshot of all the employees, and basically identify their happiness levels, and using [the Happy Business Index], we can see, what are the key points of the unhappiness? Is it because of the system, their role, [is it] not challenging enough, not the right fit…basically we're able to derive actionable things that we recommend companies work on. I think of us as kind of as a heart monitor… [We're] creating a workplace where people actually want to show up. They actually enjoy the job, and they're aligned with the company's higher purpose. 
BB: And is it ultimately successful?
JL: It depends on the company we're working with… It depends on what they're trying to measure and what kind of results they're trying to get out of it. One of the companies we worked with, they showed an increase in monthly sales by 40%, and employee retention rates were up 90% from the year before. 
BB: So what does your schedule look like?
JL: I'm traveling 75 percent of the time [doing speaking circuits], and in between trying to catch up with emails and trying not to get tripped up on the time zones. [I'm] trying to create a sustainable company out of delivering happiness. [Ms. Lim explained that Delivering Happiness is currently in "startup mode," and that she's working to grow the company. Last year they had 15 employees, and are currently at 27.]
BB: Finally, what do you want to clear up for anyone who read the Valleywag article?
JL: From a superficial level, happiness conjures a certain image in your mind. For us, it's something that's rooted in science. At the end of the day, it comes back down to real people and real numbers. In the US alone, theres [a poll] that 83 percent of Americans are disengaged from work — essentially unhappy. That's creating a loss of 500 billion dollars in productivity. Those are the real problems… "Happiness" might seem like a fluffy word [that means] "Woo! Party time," but we're taking happiness to a more meaningful level, and showing [that it has] economic value. 
The verdict: It was actually really easy to figure out what Delivering Happiness is, and what Ms. Lim does for the company. Ms. Lim is essentially the CEO of a growing startup that helps businesses be more successful by improving their work environments. The "Chief Happiness Officer" title is fairly pointless, but at least it's cute-sounding, as opposed to something pretentious like "Supreme Channeler of Smiles" or "Happiness Jesus." 
CORRECTION: We originally quoted Ms. Lim as saying that Americans' unhappiness is creating a loss of a billion dollars in productivity. She actually said the poll reported a 500 billion dollar loss.