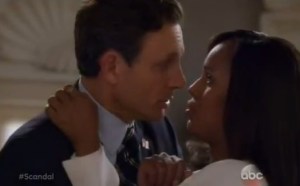 Scandal: Oh my god, I have the craziest thing to tell you.
You: Hold on. First of all, hello.
Scandal: ….
You: It's polite to start a conversation off with a little introduction.
Scandal: IF I WERE YOU, I WOULD BE TERRIFIED!
You: What does that even mean?
Scandal: NO REPEATS! INSANITY!
You: You cray.

[youtube http://www.youtube.com/watch?v=0AKWNkNUTeE&w=560&h=315]
Scandal: Are you going to eat that whole muffin?
You: I was planning to.
Scandal: THE WORLD IS WATCHING.
You: Are you drunk right now?
Scandal: …
You: Fine, you can have the muffin.