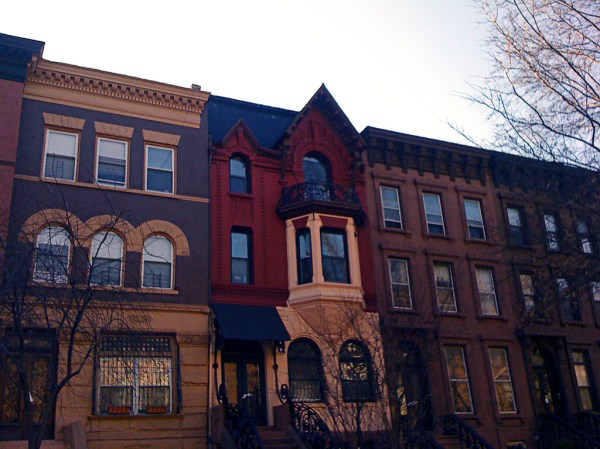 In the most recent issue of New York magazine, architecture critic Justin Davidson attempts to lob a grenade, arguing in favor of gentrification in the provocatively titled, "Is gentrification all bad?"
But rather than a Bloombergian manifesto in support of ever more billionaires moving to New York, Davidson offers a well-argued, thoroughly-reported and exceedingly reasonable case for the beneficent impact of middle-class newcomers on lower-income neighborhoods. Examining two gentrifying neighborhoods—Inwood and Bed-Stuy—he concludes that both neighborhoods are benefitting from the influx of more upwardly-mobile professionals and the changes that follow in their wake.
Davidson's right, of course—few would argue that gentrification is all bad—but he's also missing the point.
The kind of gentrification that Davidson is talking about, the sort perpetuated by yuppies who decades ago bought brownstones in Park Slope and on the Upper West  Side, joined local PTAs and convinced bodegas to start carrying organic milk and fresh-squeezed orange juice are no longer the dominant forces of neighborhood change. Just as the city's middle class is disappearing, so, too, are the benefits they conferred when they moved to lower-income neighborhoods, the edenic "sweet spot" that gentrification is, at least briefly, capable of achieving: turning marginal neighborhoods into middle-class enclaves where affordable housing co-exists with good schools, decent grocery stores, low crime rates and a plethora of local retailers and restaurateurs.
"It's more important than ever to reclaim a form of urban improvement from its malignant offshoots. A nice neighborhood should be not a luxury but an urban right," writes Davidson. Which is true, but we no longer live in an era when that model is particularly relevant. New York and the nature of gentrification has changed substantially in the last three decades, from 1980, when New York magazine defined gentrification as "the conversion of poor, working class areas into middle-class refuges," to the present day, when the idea of a middle-class refuge seems both impossible and impossibly quaint.
Instead, we live in an era where yuppies have been priced out of vast swaths of Manhattan, alongside the working poor. As New York has become more and more a magnet for global capital, the speed and the severity of gentrification has accelerated to the point where families making upwards of $120,000 a year qualify for affordable housing. Consider that the last two Hunt columns in the New York Times featured a college student finding a $2,100-a-month studio and a couple moving into a $6,900-a-month two-bedroom—rents enabled not by professional jobs, but in the first case, very wealthy parents and the second, a tech windfall.
Wine bars and cafes serving soy lattes are still the grounds on which class battles are fought, but now they are the endangered rather than the invaders, the turf that stands between the ultra high net-worth individuals of the world and everyone else. The gentrification skirmishes in New York today are characterized by upscale restaurant that cannot afford the rents paid by international fashion houses and companies who increasingly see New York stores as a branding necessity rather than a physical place to sell goods. Just as the global elite increasingly see New York as a place to park some of their massive fortunes, rather than as a place to live.
The losses range from unpretentious restaurants like Big Nicks to upper-crust establishments like the Rizzoli bookstore. The economics of the new New York are not so much about catering to wealthier new arrivals existing side-by-side with the less affluent. They are about catering to a population who buy sprawling duplex penthouses as investment pied-a-terres where they will stay a few weeks a year. The gentrification that Davidson is talking about involves wealthier, upwardly-mobile residents moving into working class neighborhoods; the gentrification that is now washing over New York involves people moving into neighborhoods where they do not really intend to live. That many real estate developers no longer deign to build one-bedrooms, according to a recent article in The Times, tells you everything you need to know about New York today.
Even for the rich who plan to use New York as a primary residence, there is a real question of just how much real interaction will take place between the super-elite and the rest of us. Yes, New York has managed to preserve pockets of low-income housing in places like Chelsea and the Upper West Side, but do the children growing up in the Chelsea-Eliot houses have anything to gain from the existence of Avenues and neighbors who send their children to school there?  The gentrification of the past may have helped bridged the gap between low and middle income, middle and middle upper; it's the reason why many parents fight to send their children to go to schools in wealthier neighborhoods. But becoming a tycoon or a movie star or an heiress is a different thing entirely than becoming a teacher or a nurse or a small business owner. And given that the city's population of homeless children has ballooned during the era of burgeoning wealth that Bloomberg presided over, it does not seem that the influx of global elite into the New York real estate market has done much to improve the prospects of lower-income children.
If Davidson's piece feels intuitive, rather than counter-intuitive, perhaps that is because so many of the points he makes have already been conceded, even as neighborhoods across the city continue to grapple with changing class dynamics, just as they always have. But even the outer-fringes of gentrification, in neighborhoods including Bed-Stuy, the process taking place is not the older form of gentrification, the one in which the middle class invades. Unrenovated brownstones now sell for over a million dollars in the blocks that border Clinton Hill, and that's if you can even manage to buy one without an all-cash offer. Even two-bedrooms are selling for upwards of $800,000. Supermodels and famous artists are among the neighborhood's new residents; it is not really a place for the middle class anymore, let alone the low-income. The teachers, mailmen, nurses and accountants, the assorted middle class professionals who have owned brownstones for years will be able to sell them at great profit, a boon that the New York mag piece rightly identifies as such, but the buyers will not be of the same economic milieu.
As Davidson writes, "Gentrification can nudge a neighborhood up the slope; decline can roll it off a cliff. Somewhere along that trajectory of change is a sweet spot, a mixed and humming street that is not quite settled or sanitized, where Old Guard and new arrivals coexist in equilibrium. The game is to make it last."
The problem is that in New York, the game is already over.