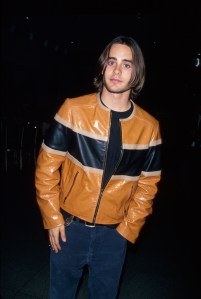 On Oct. 16, 1995, I had a casting at Vogue for Fashion Week. My datebook from that day says I stopped by 350 Madison Avenue between 10 a.m. and 3 p.m. Fashion Week was still in its infancy, having just been collectively located in the tents at Bryant Park the previous year. According to fashion lore, it was the ceiling falling down onto models during a 1990 Michael Kors show that was the impetus for the Council of Fashion Designers of America (CFDA) to take action. Reportedly, the models continued to perform their jobs while the fashion editors ran for the exits. Unsafe workspaces were not acceptable for the CFDA when it came to putting their own lives at risk.
That Fashion Week marked my second time around with this city, reluctantly sulking back after leaving New York in a flourish 18 months earlier. Taking my turn in the last season of the Mickey Mouse Club back home in Florida, I'd re-upped with Wilhelmina and was studying to be an actor. According to my almost 20-year-old datebook, I also took a runway class that day. I have no memory of ever taking a runway class. I am too short for the runway, you see.
That was why it was such a surprise when I was booked by Vogue for Fashion Week. I was jumping in the air, fist pumping like a champ, when my booker laid out the details. My job was not to walk a runway but to stand outside the Bryant Park tents and look appealing. I was a Vogue hostess. On top of being whispery sweet, I was expected to hand out Godiva chocolates and handmade frothy cappuccinos. The spring show started at the end of October that year. The weather had already turned.
Three women other than me had been booked to act as Vogue-stresses. We were dressed in identical black, ski-like leggings, cropped, white, down jackets by J.Crew and shell-toed Adidas sneakers. These outfits were part of our payment. When I returned home for the holidays a little over a month later, I gave my white puffer to a friend who was moving to Colorado. There was one long-haired guy I kept running into every day that week 19 years ago: Jared Leto. This was long before he was an Academy Award nominee. He was just an up-and-coming actor then, and the television show he appeared on every Thursday night on ABC, My So-Called Life, had recently been canceled.
On Monday, Oct. 30, I arrived outside the tents at 9:30 a.m. It was before the first show had started and the fashion crowd was standing around scattered groups, like a high school cafeteria. There was a strange sense of humiliation and excitement racing in my veins. I had been making my living as a model since I was 14. Two years before, I was chosen for a Pepe Jeans Campaign shot by Walter Chin and appeared on the cover of Sassy. But in 1995 I was 19—old for a model.
It was cold out. The puffer and ski-pant style leggings weren't really warm enough, so we Vogue-stresses sipped cups of cappuccino all day, buzzing about, trying to keep active and attractive. My workday was from 9:30 a.m. to 3:30 p.m. with an hour off for lunch. There was a deli close by that made a nice split pea soup; I ate that for lunch every day.
Even then, Fashion Week was a hive, the fabulous gathering together as a mob. I held a Little Red Riding Hood basket and a coy smile, nodding and offering treats to the well-dressed passersby. Our station was in the middle of the front-door action, where everyone greeted or artfully ignored each other, where the photographers clicked off young celebrities stopping to smile their not-too-toothy grins. Mr. Leto would reach into my basket for something sweet and repeatedly asked for my phone number. "Come on, Sky. Give me your number?" to which I would reply that I had a boyfriend, because I did. "You're the prettiest girl here," he would protest. "You should be up there, inside." His eyes were a stark, high-altitude blue and his style the kind of tattered cool that was still popular in the '90s. I was much younger then, in age and temperament. Whether I was enamored by Mr. Leto's relative fame or just exhausted by his tenacity, I finally gave in and shared my phone number with him. He called me every night, stating that he was only in town for the week and, boy, what a great time we would have. I never took him up on his offer, though his courtship remains one of the most memorable things from those caffeinated afternoons working the tents. I wouldn't work another Fashion Week again.
Almost 20 years later, when we are both closer to 40 than 15, I once again ran into Mr. Leto during Fashion Week. It was 2010, at a private event featuring a concert by Metric and Patti Smith. Ms. Smith was onstage, and I was excited. Getting into the groove, I twirled a bit to my right and came face to face with Mr. Leto. His hood was up, but he still looked obvious. I smiled and nodded, recognizing him as if he were an old friend. When my salutation wasn't returned, I laughed. Realizing after all of his persistence all of those years ago that he didn't remember me, what else could I do? A lifetime separated us from that first encounter, and here we were together, after so many days, so many changes. He walked away, and it occurred to me that I was actually having a better time than I ever had in Bryant Park, trying to please the beautiful people.