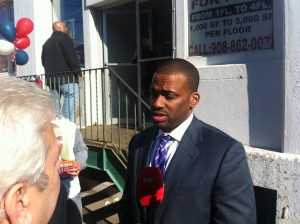 NEWARK – Mayoral candidate Shavar Jeffries' appearance in Newark's Ironbound neighborhood on Saturday was in many ways typical. Until the moment it wasn't.
Jeffries, the former state Assistant Attorney General now locked in political combat with South Ward Councilman Ras Baraka, got the public endorsement of East Ward Councilman Augusto Amador on Saturday. Jeffries opened up his headquarters in the ward as Amador shifted his support to the South Ward resident. Amador had supported North Ward
Councilman Anibal Ramos, Jr. until Ramos left the mayoral race less than two weeks ago.
But before more than 100 supporters jammed into the Monroe Street office, Jeffries talked about something more fundamental than endorsements. He spoke at length about growing up in the South Ward, and the death of his mother when Jeffries was ten years old.
"I want you to know my heart, and I want you to know my spirit," said Jeffries, 39. "I come from a family that has been in Newark for over 100 years. My mother was a very young, 19-year-old teenage mom when she gave birth to me, and she really wasn't ready to deal with the responsibilities of parenthood at that time. She did the best she could do.
"For the first eight years of my life, I was bouncing around from home to home as my mother was getting on her feet. When I was eight years old, I went to go live with her. I really was excited, because your mother is everything, the center of the universe.
"It's amazing how things can happen. I was with her a few weeks when we had a broken lock. The locksmith who came to fix the lock and my mother entered into a relationship, and they would get married. After my mom got pregnant with my little sister, the locksmith started asking my mother questions about the phone bill. He apparently didn't like the answer that he received, and he struck my mom.
"This would begin a period of domestic violence that happens almost every day in our communities. It gets swept under the rug. My mother would go get restraining order after restraining order after restraining order. They would be ignored. [The locksmith] would kick the door down and drag my mom out. It got so bad we had to be on the run. We went from home to home, hiding from this person, [until] we found a new apartment.
"On November 25, 1985, my mother went to work. She told me when she came back, we were going to go see Rocky IV that week because we had been dealing with a lot. But unfortunately, I wouldn't have that opportunity. The locksmith was waiting for her at her workplace. He would say later that he happened to have a sawed-off shotgun in his
hand. My mother didn't make it out.
"My father popped up, said he would take care of his son. I was with him for a few months, then I came home one day and he was gone. No note. I would never see him again."
But after Jeffries told the nightmarish history of his past, the Seton Hall Prep, Duke University and Columbia Law School graduate, raised by his grandmother in the wake of successive tragedies, said why he stood ready to guide Newark's future.
"I'm here for you today, there's a reason, and I tell you that story for two reasons," Jeffries said. "I want you to have a sense of the spirit of the person who is inside [of me], but much more important than that, it shows what we can do in our communities, for our children and our families, when we give them opportunities."