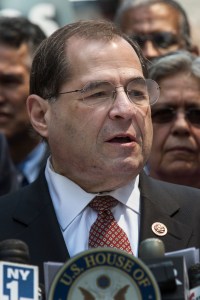 West Side Congressman Jerry Nadler is fuming mad about the federal farm bill, which cuts billions from food stamp benefits.
Mr. Nadler, not known as a rhetorical bomb-thrower, used some unusually harsh language Sunday against Republicans lawmakers, charging they "want people to starve" by forcing "immoral" and "disgusting" cuts on hungry families. 
"I voted against the Farm Bill … essentially because it contains $8 billion worth–more than $8.5 billion–in cuts to the food stamp program," Mr. Nadler said, speaking with videographer Shimon Gifter at District Attorney Ken Thompson's inauguration last weekend. "And that results in something like $90 a month less for a family of four to eat. Families, who through no fault of their own, are in dire need–are hungry. It's just immoral, frankly."
"I don't see how we can do that–not in this recession when people can't find jobs and we're not extending unemployment insurance. And now we want to starve people? That's wrong," he added.
Mr. Nadler, pressed on Republican concerns of fraud with the program, continued firing away at those on the other side of the aisle.
"There's no evidence. Look, [with] any program human beings will find a way to have some fraud," he replied. "There will be plenty of protections to minimize the fraud. If the Republicans wanted to say, 'Let's put in this action for protection or put in that action for protection,' that would be something else. But they're just using that as an excuse. They just want people to starve and it's disgusting."
Reached for comment, Mr. Nadler's office pointed Politicker to the congressman's past statement on the bill, which also notes the legislation's positive aspects while calling the cuts "cruel and unnecessary":
"There are many positive provisions in the farm bill, such as those supporting conservation and the environment, organic programs, animal welfare, and international food aid, but I cannot support $8.5 billion in SNAP cuts. Low income families will lose an average of $90 a month. For vulnerable residents of New York City, the additional cuts will take away 70-100 million meals. It is cruel and unnecessary. I cannot in good conscience vote to increase food insecurity in America."
View Mr. Nadler's Sunday remarks below:
 [youtube http://www.youtube.com/watch?v=gOOWpUrW_ww&w=560&h=315]