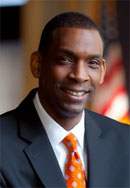 Paterson Mayor Jeff Jones knows the political power in Passaic County is lining up to get him out of office.
But he doesn't plan to go anywhere.
"You can have all the machines in the world," said the ex-Marine, who infamously bucked Silk City native son incumbent U.S. Rep. Bill Pascrell (D-9) by embracing eventual loser Steve Rothman in the 2012 Democratic Primary.
Earlier today, former Ward 6 Councilman Tom Rooney criticized Jones for failing to build effective relationships with other government entities.
"He's very bright," said the former councilman, but believes Jones has walled himself up in city hall and neglected those resources that former Mayor Jose "Jose" Torres proved more adroit at cultivating, in Rooney's opinion.
Earlier today, Rooney formally backed Torres for mayor in a crowded field that includes Councilman Andre Sayegh, Councilman Rigo Rodriguez and former Councilman Aslon Goow.
"State government respects us," Jones said, objecting to Rooney's characterization."We've lived up to the standards of the MOU and in very difficult times the city has still managed to receive $23 million dollars for over 30 odd projects. This is more about respect by the state that competence in city government exists rather than a case of everyone being friends and nothing getting done."