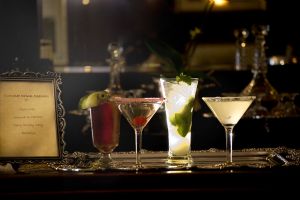 We would be writing this post around brunch-time, five mimosas deep, but apparently that is illegal now. (Also, office etiquette or whatever.)
Suspiciously following a Gothamist article listing the best bottomless booze brunches in the city, the New York City Hospitality Alliance sent out a press release saying bottomless equals illegal. 
"The ABC Law prohibits from selling, serving, delivering or offering to patrons an unlimited number of drinks during any set period of time for a fixed price," the release states. 
Although 2-for-1 deals are cool with the Alliance, the release also cast a shadow of doubt over most happy hours. 
"The statute also prohibits licensees from creating drink specials which, in the judgment of the Authority, are attempts to circumvent the law." the release states. "This includes offerings of free drinks, or multiple drinks for free or for the price of a single drink, or for a low initial price followed by a price increment per hour or other period of time. "
We called Calle Ocho, a Latin establishment on 81st known for its endless sangria special, to see if they still offered the bottomless goods. 
"As of right now, we aren't sure," an employee told the Observer over the phone. "We just found out, like everybody, through the media that it may be illegal. We are figuring it out but as of right now, no."
On the other hand Pounds and Ounces, a Chelsea restaurant that offers a $25 bottomless cocktail brunch, has decided to rage against the machine.
"Absolutely, Saturdays and Sundays," an employee cheerfully told us when asked if they still offered the deal. 
We'll drink to that.