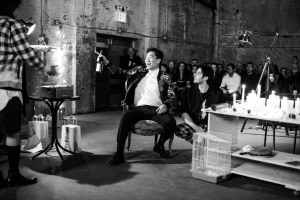 In his fanciful novel about diva worship, Mawrdew Czgowchwz, James McCourt observed of opera-going in New York in the 1950s: "One saw truth, heard it in key perhaps three times in one perfect week. … One relished, one hoarded the grand moments as the hints of a promise that would leave no 'Next?' in its wake."
Last week was far from "perfect" in a McCourtian sense, and there was plenty of "Next?" hanging in the air. But a grand moment or two could be glimpsed, even if they didn't emanate from anywhere near Lincoln Center.
The last place you'd expect to find opera at all, let alone good, exciting opera, is in still-scrappy Bushwick, Brooklyn. But that's where a new and vital company called LoftOpera has popped up for a two-weekend run of Puccini's La Bohème in a performance that is as true and moving as any I can remember in 40 years of opera-going.
The venue is not an opera house or even a theater, but rather a vast warehouse called The 1896—coincidentally the very year La Bohème had its world premiere, in Turin. It is ordinarily used for photo shoots and dance parties. The distressed brick walls and exposed beams echo the chic, romanticized bohemianism of Puccini's opera. Jay Scheib has arranged the room into a broad playing area surrounded by three banks of bench seating.
More important, the singing was generally very fine. Most spectacular was tenor Won Whi Choi as the poet Rodolfo, unfurling a big, virile sound that rocketed fearlessly up to a high C so secure he dared to run across the stage while holding the note. His baby face and slightly clumsy demeanor took the sting off the character's jealousy: Here was a reminder that the "young artists" of Puccini's opera are in fact teenagers with raging hormones. For once, the plot's incessant fallings in and out of love made perfect sense.
Soprano Liana Guberman made an offbeat Mimi, the voice a little cooler than what one expects in Italian opera, but she compensated with passionate phrasing and an unusually rich lower register. Zaftig and blond, she was hardly the wispy dark girl described in the libretto but rather something of a kook, popping prescription pills and nonchalantly crafting an origami flower out of Rodolfo's writing paper. She and Mr. Choi achieved an easy, funny rapport onstage, continuing even into the curtain calls, when the "dead" Mimi gave her helplessly weeping co-star a warm, supportive hug.
Unusually for any opera, even those performed on the grandest stages, this cast was without a weak link. Joshua Jeremiah's dark, grainy baritone gave the painter Marcello a dash of menace, and Pnini Grubner's sleek bass traced an elegantly lyrical account of the philosopher Colline's moving farewell to his overcoat—or, in this case, his hoodie. The outsider of the group was Joel Herold's Schaunard, his preppy outfit suggesting a slumming frat boy. Despite some overcomplicated stage business involving a birdcage, a live canary and a handgun (don't ask), he landed the character's fast-paced, first-act solo with easy, pinging high notes.
In a more traditional venue, Larisa Martinez's light soprano would likely get lost in Musetta's lively music, but in this intimate setting, she stopped the show with a purring Waltz song climaxing with a perfect diminuendo on high B. And she managed this feat while dancing on a table in 6-inch heels.
Bass Paul An played the traditional doubling of the usually unrelated roles of the landlord Benoit and Musetta's sugar daddy, Alcindoro, with a relaxed, firm bass. In this version, the two seemed to be the same person under different names, an offbeat but intriguing variation.
Ordinarily, the weakest link in any small opera production is the orchestra, with short rehearsal times resulting in poor ensemble and atonal intonation. What a delightful surprise it was, then, that LoftOpera's 19-player band sounded just fine, with warm tone and sensitive responsiveness to the singers' phrasing. From his vantage point tucked into an alcove behind the main seating area, conductor Dean Buck supported the voices smoothly. The dynamic range is spine tingling, from practically whispered lines to great thundering vocal climaxes that seemed to set the whole building throbbing.
Among the bundle of smart ideas stage director Laine Rettmer had for the work was updating the original 1840s setting to modern-day Brooklyn. This was more than just a gimmick, since the bohemians onstage were virtually indistinguishable from the young, hipster-y audience. A particularly winning detail came at the end of the first act: As the young lovers walked off into the night, Mr. Jeremiah danced across the stage holding aloft a giant white balloon on which was projected a photograph of the moon. It was silly, but it was young, fresh and heartbreaking, which is exactly what La Bohème is meant to be.
Would that some of LoftOpera's pixie dust had rubbed off on a new production of Massenet's Werther that limped into the Met Feb. 18.  Compared to La Bohème, it's an uneven work, two weak undramatic acts followed by two that are both theatrically gripping and filled with rich melody. The opera's virtues, however gentle, deserve a better frame than Richard Eyre's fusty, fussy staging and Alain Altinoglu's noisy, lurching musical direction.
The singing, too, was problematic. This Werther is a vehicle for superstar Jonas Kaufmann, who was in frustrating form opening night. He is indubitably a star, so magnetic that his first appearance onstage won a burst of applause from the audience, and the voice is absolutely world class, distinctively dark and powerful. But as in last season's Parsifal, Mr. Kaufmann sometimes sings so softly he can hardly be heard for minutes at a time; it sounds as if he is performing only for himself. When he pulls the stops out, as in a passionate reading of the third act lament "Pourquoi me réveiller," the effect is electrifying, but you can't help thinking: Where has this voice been all night?
Mr. Kaufmann wasn't helped by Mr. Eyre's staging, which pointlessly updates the action from the proto-Romantic "Sturm und Drang" era of the 1780s to circa 1900, when the hero's brand of morbid sensitivity would read as decadence rather than idealism. Designer Rob Howell enveloped the tenor in an ill-fitting black trench coat that hung around his slim, broad-shouldered frame like a woolen muumuu. Mr. Eyre seemingly directed him to play Werther glum and introverted, which in combination with his undersinging left the character practically invisible.
Curiously, Sophie Koch, as Charlotte, the demure married woman Werther adores, played the drama queen in her Met debut, twirling onstage for her first entrance like an operetta diva and then carrying on in the second half of the opera as if she were doing Didon's death scene from Les Troyens. In further contrast to Mr. Kaufmann, she tended to push her voice, so the cool, elegant timbre somtimes turned hard and blowsy.
Another debuting artist, baritone David Bizic, made a strong impression in the thankless role of Charlotte's husband, Albert, his voice crisp and colorful. Even costumed as Anne of Green Gables, soprano Lisette Oropesa shimmered as Charlotte's little sister, Sophie, her light soprano darting like a starling though her tiny arias.
I could go on about what was wrong with this Werther: the irrelevant, distracting video projections that looked like opening credits for a Lifetime movie or the bizarre set for the first two acts that looked like an explosion in a picture frame factory. But what's the point? This Werther is dead on arrival. If you're looking for McCourt's "hints of a promise," check out the Met's Prince Igor—or make the trek to Bushwick.