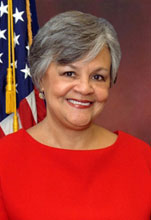 A legislator serving on the joint legislative committee investigating Gov. Chris Christie's administration is facing backlash from Republican lawmakers after she called for the governor to resign.
Assembly Republican Leader Jon Bramnick accused Assemblywoman Bonnie Watson Coleman of catching "MSNBC fever" Friday morning after the Bridgegate investigation committee member said on television that Christie should consider stepping down from office.
"Her call for the governor to resign may be what MSNBC wants to hear but not the people in the state of New Jersey," Bramnick said in a statement.
"The most surprising part of Assemblywoman Watson Coleman's statement is that her record has been the most progressive when it comes to giving people who make mistakes a second chance," he said. "Balance and fairness should be the goal of the committee. Assemblywoman Watson Coleman should withdraw her statement on resignation and wait for all the facts."
The statement was issued the morning after Watson Coleman reacted on MSNBC to newly released documents from former Port Authority executive David Wildstein that she referred to as "unacceptable in civilized society."
"And you know what? The governor needs to think about resigning, and he needs to take all his friends with him because this is sickening," she said on Al Sharpton's MSNBC program.