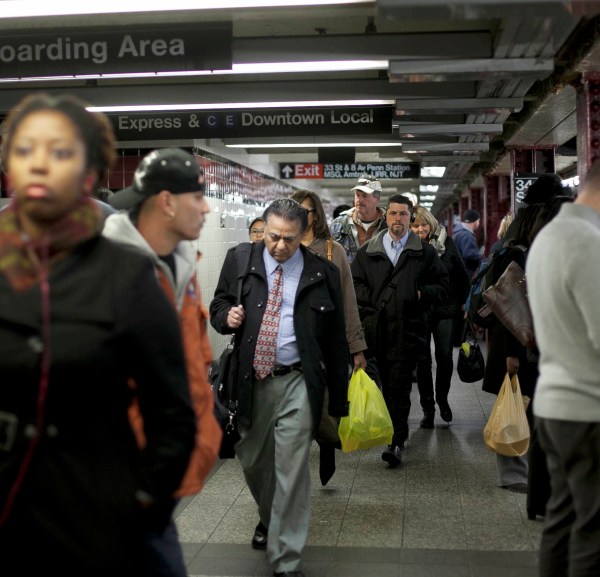 Forget LCD Soundsystem. James Murphy wants an NYC sound system.
The former lead-singer's project, dubbed Subway Symphony, aims to make the subway system a little bit more pleasant to listen to. He wants to turn the underground into a song.
"What i propose to do is to create a series of 3 to 5 note sequences, all unique, one for each station in the subway system," Mr. Murphy writes on Subway Symphony's petition site. "These sequences will be part of an intersecting larger piece of music, which would run from station to station, and cross one another as, say, the 4, 5, 6 line (one musical piece) intersects with the L, N, R, Q and W (another musical piece) at Union Square."
An MTA spokesperson told The Wall Street Journal that Mr. Murphy's project is a "very cool idea," but also questioned whether it was feasible to spend time on such a huge undertaking for an "art project."
The notes would replace the monotonous sound that echoes every time you are admitted through a gate using your Metro Card. Combined, the notes would turn rush hour at the crowded Union Square stop into opening night at the Met.
Mr. Murphy spoke with The Wall Street Journal in a video interview, in which he called the current state of affairs in the subway station "quite brutal," and described the turnstiles as an "unpleasant beep."
"Why don't we just make it a nice sound?" Mr. Murphy asks in the video. "Just make it pleasant."
The video previews the notes Mr. Murphy would someday like to hear, which admittedly are pleasant. But we don't know if we want to hear them when, in our case, they come with an "insufficient funds" message. No amount of pleasant beeps can make that okay. 
[protected-iframe id="0646d426d09e1fcda9eb95a71fda0a34-35584880-59143305″ info="http://live.wsj.com/public/page/embed-67CC9E56_5F9C_4D1E_8C1F_57012B27EB74.html" width="512″ height="288″ frameborder="0″ scrolling="no"]