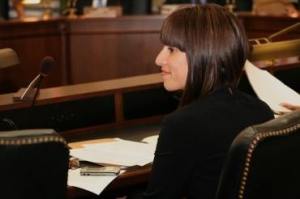 Sources in Essex and Hudson counties continue to identify state Sen. M. Teresa Ruiz (D-29), Newark, as the most likely candidate for lieutenant governor based on the budding regional contenders for the office of governor.
At this moment, Senate President Steve Sweeney (D-3) of South Jersey and Jersey City Mayor Steven Fulop of Hudson County are vying in the backrooms of party power for a statewide upper-hand.
A woman, a Latina and longtime loyal attaché to the party, Ruiz fits both tickets.
And powerful Essex County Executive Joe DiVincenzo – intent on protecting his sphere of influence as he seeks to back a winner in the volatile Newark Mayor's race – knows that.
As the county with the biggest concentration of registered Democrats in the state, Essex sits astride the road to Drumthwacket in a unique way, and as the chief acolyte and Trenton lieutenant for DiVincenzo, the North Ward's Ruiz occupies a key chair of party power.
Based on geographical significance as it relates to Sweeney, insiders see Bergen's state Sen. Paul Sarlo (D-36) and Ruiz as the two top contenders to succeed the sitting senate president.
Sweeney can gain an edge in critical Bergen by setting Sarlo up with the upper house throne, while abating that loss for Ruiz and DiVincenzo by consenting to put Ruiz on his ticket as the LG candidate, thereby softening two counties in one stroke.
Fulop hopes to check Sweeney by consolidating Northern county support, and he can't do that without Essex.
If DiVincenzo, who has struggled since his endorsement of Republican Gov. Chris Christie to connect with other party pooh-bahs – can't sustain his alliance with Sweeney, Fulop can work toward strengthening his own ties to Joe D. by putting Ruiz on his ticket.
Fulop is in a delicate spot right now with the latest developments coming out of Newark, and in a war may end up on the opposing side of the county executive, which could hurt his chances in an Essex rundown with Sweeney.
But he's not the only one.
If Baraka wins the mayor's race and substantially outperforms the North Ward and its allies, DiVincenzo's operation takes a hit – and so does the carefully conceived and powerful Ruiz factor.