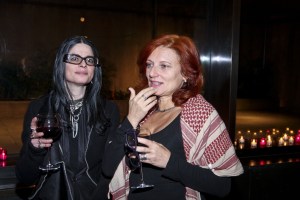 Early on Saturday evening, as snow began to fall on Manhattan, I was at Invisible-Exports on the Lower East Side seeing their very beautiful Kazuko Miyamoto show, when I had the good fortune to come upon the 15th issue of San Francisco Art Quarterly, which has on its cover an image of a metal bar-wielding Vito Acconci, from his 1971 piece Claim. It's a great publication (and impressively thick), offering up interviews with artist Kembra Pfahler, Japanese-postwar-art scholar Reiko Tomii and Lia Gangitano, the founder of L.E.S. mainstay Participant Inc.
It's a stellar interview—with Ms. Gangitano discussing the mysterious, now-vanished curator Christian Leigh, her early years at Thread Waxing Space, and the difficulties of opening up after 9/11—so it's worth reading it in full, but here's a little excerpt in which she talks about her space's audience, and how it has changed since it opened in 2001:
So I would say that the growth is not to do with the growth of the commercial sector in the neighborhood, but just the longevity of the space. It's a cumulative process where people come back. Artists come back because they're interested in the whole platform, not just their own contribution to it. I would say that at any given event or opening there are familiar people and people I'm very close with, but also young people that I haven't met. I think that the tribute screenings that Conrad Ventur organized for Mario Montez were striking, in that there were young people in the audience sitting next to Mario's friends and colleagues. The inter-generationality of the audience was quite moving. It's also how I remember coming to New York. Some of the first people that I met when I moved to Ludlow Street were Taylor Mead, René Ricard, and shortly after, Michel Auder. Basically from the minute I arrived, any notion of the Factory as part of the past was debunked. Instead of any premature historicizing of movements or ideas, this neighborhood showed me that this particular history completely overlaps with the present, that's just how it is. And I feel like this is something that occurs at Participant very naturally. And it goes both ways, with the exposure of younger generations. Everybody benefits from the enthusiasm of their peers.
The full issue is available as a PDF here. (Check the floor of your favorite local galleries for a print copy.) The interview with Ms. Gangitano starts on page 42.
Looking to read a little more Lia Gangitano this holiday Monday? Document Journal did an equally great interview with her last summer, available here.