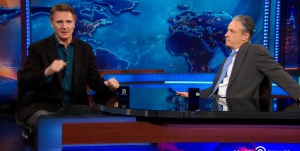 Mayor Bill de Blasio may have a seemingly endless parade of celebrity backers, but actor Liam Neeson will likely never be one of them.
The Irish star denounced Mr. de Blasio on The Daily Show last night, once again taking the mayor to task for his vow to ban horse-drawn carriages in the city.
"I am a little bit pissed off at our elected new mayor," Mr. Neeson stated, without any prompting from host Jon Stewart.
"He wants to close this horse and carriage industry in New York. There was a poll last week," explained Mr. Neeson. "Over 60 percent of New Yorkers want to keep the horse carriage industry in Central Park."
He also took a hit at Mr. de Blasio's controversial decision to keep schools open during a recent snow storm. "He made my kids go to school in all that snow," Mr. Neeson said with a smile.
Mr. Neeson has repeatedly spoken out against Mr. de Blasio's vow to ban horse-drawn carriages. Mr. de Blasio, who received significant financial and organizational backing from anti-carriage activists during his campaign, said at one point that he would move to ban the tourist rides as soon as he stepped into office, but has yet to move forward with the plan.
While Mr. de Blasio and many animal rights activists claim the treatment of horses in the city is inhumane, Mr. Neeson and the industry argue that the horses are properly cared for. Questions also remain about where retired carriage horses would go if they were banned. Some have suggested they could be slaughtered.
Mr. Neeson also attacked the mayor for not meeting with the horse-carriage industry, as members have requested. (The mayor did recently say he would visit the stables before he banned the horses.)
"He won't even take a meeting with the horse carriage industry," Mr. Neeson said. "This guy won't, he's supposed to be representing the New York people."
Watch the full video below: