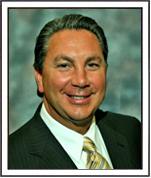 Veteran Hudson County Freeholder Tom Liggio announced that he will not seek re-election last night at a meeting of the North Bergen Democratic Municipal Committee.
North Bergen Mayor and State Senator Nick Sacco (D-32) subsequently endorsed Anthony Vainieri for the open seat.
The North Bergen Democratic Municipal Committee, the Hudson County Democratic Organization and Freeholder Liggio all threw in their own support for Vainieri, the brother of Assemblywoman Valerie Vainieri Huttle (D-37).
"Tom Liggio has done so much for North Bergen, first as a Commissioner and in recent years as a Freeholder," said Sacco. "He was with us from day one and has contributed great things to the township and dramatically improved county services, especially in Braddock Park. It is sad to see him go but I cannot think of anyone more qualified and experienced to continue advocating for North Bergen at the county level than Anthony Vainieri."
The manager and co-owner of the Vainieri Funeral Home in North Bergen, Vainieri (pictured) is a member of the Hudson County Schools of Technology Board of Education and Chairman of the North Bergen Zoning Board. He has served as Sacco's chief of staff and as a confidential aide for many years and has been an active member of the North Bergen Democratic Municipal Committee for his entire adult life. Vainieri's father, Anthony Vainieri Sr., served as a township commissioner and in the State Assembly in the 1970s and 80s.
"I am absolutely honored to be chosen by Mayor Sacco and the Democratic Party to follow in Tom Liggio's footsteps as the Freeholder representing North Bergen," said Vainieri. "I look forward to working with the other freeholders and the County Executive to serve the people of North Bergen and the entire county."
Vainieri has received the endorsement of the Hudson County Democratic Organization and will be on the party line in the June Primary election.
"I have known Anthony for many years and believe he will be an excellent candidate for Freeholder," said HCDO Chairman Assembly Speaker Vincent Prieto (D-32). "His many years of community involvement in North Bergen and Hudson County, experience in several levels of government and knowledge of county government makes him a natural choice and I proudly endorse him."
Elected to the North Bergen Board of Commissioners in 1985 as part of the recall team, Liggio served with Sacco from the beginning of his administration until 1999, when he successfully ran for a seat on the Board of Chosen Freeholders.
"Representing my home town of North Bergen on the county level has been a thrill and I would not trade the last 30 years for anything," said Freeholder Liggio. "I know that Anthony has the skills and expertise to flourish as a freeholder and I believe that he will do an outstanding job representing us."