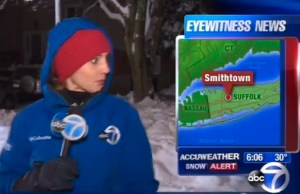 When you think of TV newspeople, you probably think of glamour and gravitas: Your Peter Jennings, your Edward R. Murrows, your tipsy aunt Kathy Lee. What you don't think of is the grueling, long hours that many of these people put in at thankless jobs on their way to the top, like this poor WABC reporter, Kristin Thorne, a correspondant for local Long Island news coverage, who was almost run over last night while reporting from Suffolk County.

[youtube http://www.youtube.com/watch?v=RLIdVztxG5g&w=560&h=315]
She's okay! Thank god! And no, she wasn't reporting on DeBlasio's vow to curb pedestrian deaths, though that would have been ironic.