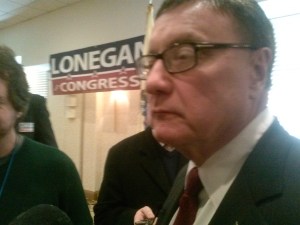 TOMS RIVER – Former Bogota Mayor Steve Lonegan this afternoon declared his candidacy for Congress in the 3rd District with broadsides against Obamacare, U.S. Rep. Nancy Pelosi and the liberal media, and projections of Ronald Reagan on a screen in front of a packed room in the Toms River Hotel.
But he did leave himself some wiggle room at the end of it all when PolitickerNJ.com asked him if he's in this campaign until Election Night 2014 regardless of what the two GOP Party organizations do early next month.
"I don't feel like running a primary against two organizations," said the movement conservative, last year's GOP nominee for the U.S. Senate who lost by 11 points to Cory Booker in a lusty effort.
Right now, one of those organizations – Burlington – doesn't mind bashing Lonegan as an unacceptable alternative to fill the seat vacated by retiring U.S. Rep. Jon Runyan (R-3).
Early, the Burlington GOP likes former Randolph Mayor Tom MacArthur, so its emissaries don't mind smothering Lonegan on Reagan's birthday.
"I find it ironic that Steve Lonegan chose to announce his candidacy for Congress on President Ronald Reagan's birthday, apparently trying to wrap himself in Reagan's legacy when the similarities between Mayor Lonegan and President Reagan are virtually non-existent," said Senator Dawn Addiego (R-8), of Burlington County, who called Reagan the greatest President of her lifetime. "President Reagan promoted the inclusive 'big tent' approach to building our party, and in the process strengthened the Republican brand with an optimistic, hopeful vision for the future of our country that captured the imagination – and the votes – of a vast majority of Americans.
"Unfortunately, Mayor Lonegan has taken the exact opposite approach over the last decade, and the results have been disastrous," the senator added. "The fact of the matter is that Mayor Lonegan has lost elections for Congress, Governor (twice) and the U.S. Senate, in part, due to a style that is angry and positions that are callous. Mayor Lonegan's record and rhetoric drives away the middle-of-the-road voters we appeal to and win here in Burlington County. If we want to keep the 3rd Congressional District in Republican hands, we need a candidate who will emulate President Reagan in word and deed, not just use his birthday as a prop for a campaign kickoff."
By contrast, there was nothing out of Ocean County.
No word of scorn for the man from Bogota who moved to Lavalette to run for Congress.
"I'd like to have the whole party behind us," Lonegan said, hours before Pelosi's scheduled fundraiser for Democratic candidate Aimee Belgard, a Burlington County freeholder.