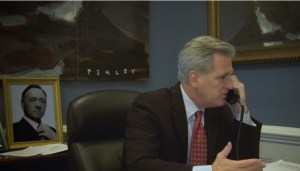 We'd say "They wish," but the implications are too disturbing. Especially since Rep. Kevin McCarthy here on the left is actually the House Majority Whip, and everyone else in the video (save Congresswoman Donna Edwards) is actually from South Carolina.

[protected-iframe id="2fef35a77fd61d7f72ccc94e39a5dbeb-35584880-35147716″ info="http://p.nowthisnews.com/entry/8779/" width="625″ height="400″ frameborder="0″ allowfullscreen=""]
Man, can you imagine if politicians were actually as good at speaking as Underwood? (Well, not publicly, maybe, since he did get himself auto-tuned. Then again, when was the last time the McCarthy went viral for any reason?) We'd all be glued to C-Span, 24/7, waiting to see what glorious mechanisms and subterfuge went into the House Subcommittee meeting on Agriculture. Life would grind to a halt. Chaos would reign, and the earth would devour the sun.
I guess we should be thanking god that there is only one Rand Paul.