[protected-iframe id="2fc40000d3748e6b65063ff7c0054d25-35584880-59143305″ info="//player.vimeo.com/video/82339497″ width="500″ height="281″ webkitallowfullscreen="" mozallowfullscreen="" allowfullscreen=""]
When we lose one of the various knickknacks stuffed in our pockets–a Metrocard, a lighter, that pizza and tear-stained ATM reciept–we feel a mixture of confusion and apathy. These things are important, but also easily replaceable. But how do those lost tchotchkes feel about losing us?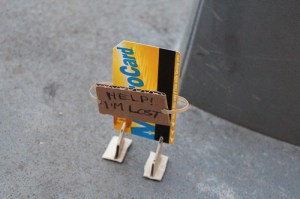 Yoonjin Lee, a senior at the School of Visual Arts who operates under the pseudonym "Zoonzin," is trying to give a voice to these otherwise silent objects. Her latest work, the "Little Lost Project," is a collection of lost cell phones, candy and other discarded objects adorned with messages that the items might say if they were, you know, animate.
"Losing your phone can ruin your day for sure, but how about losing your favorite lip balm that you always keep in your pocket?" Ms. Lee writes on her website. "Ever wonder where and what these little objects are doing now? The Little Lost Project is an on going commitment to find small objects on the streets and give them a story to tell the people walking by or viewing [online]."
To do that, Ms. Lee scours the streets for lost items, and uses bits of cardboard to give them legs and arms that hold tiny signs with phrases like "I'm still useful!" She then returns the objects to the streets and, after a couple quick photographs, leaves them to fend for themselves.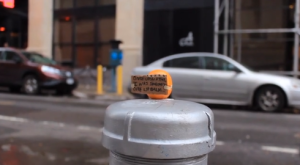 "It started as a class project," Ms. Lee told the Observer. "The brief was to create a mystery on the streets, so I thought it would be interesting to personify the small every day objects that we see laying around on the streets of NYC. I guess my message would be to pay attention to our surroundings and enjoy the little moments in life."
Some of the lost objects wax philosophical, like the lighter holding a sign that said, "We lighters are like buses–we come and go." Others, like a round lip balm case that states "Once upon a time I was someone's cute lip balm…," are more forlorn. Most items are simply scared of being alone and hold up signs that say "Help! I'm lost." 
Ms. Lee, who was born in Queens but raised in Greak Neck and Seoul, has experience working with stuff most of us consider garbage. Last year, she created a video in which she found every letter of the alphabet spelled out in trash cans.
But while Ms. Lee is turning trash into art, the rest of us can stick to Metrocards that haven't touched the world's dirtiest sidewalks.