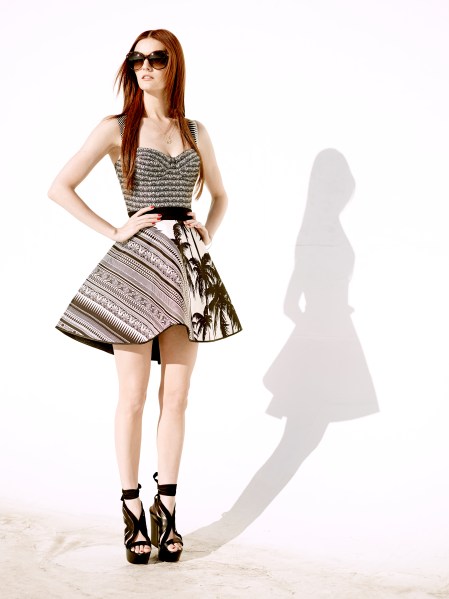 Acting is a cut-throat business, and Lydia Hearst is (barely) living proof. 
"I've been thrown out of a moving vehicle. I've been strangled. I've had my throat slit. I've had a flesh-eating virus," said Ms. Hearst, speaking about her various film roles. "I was joking earlier on set today that people always seem to be brutalizing or killing me in various ways." 
Ms. Hearst—an heiress to the Hearst publishing empire—is also a model, mentor, TV personality and now budding movie star. Talking with her, one realizes it would take more than some run-of-the-mill flesh-eating virus to take her down. 
That was clear from the time she was 16 and a high school junior at Wilton High School in Connecticut, where she harbored modeling hopes unlikely for someone  only 5'7" and curvier than your average catwalker.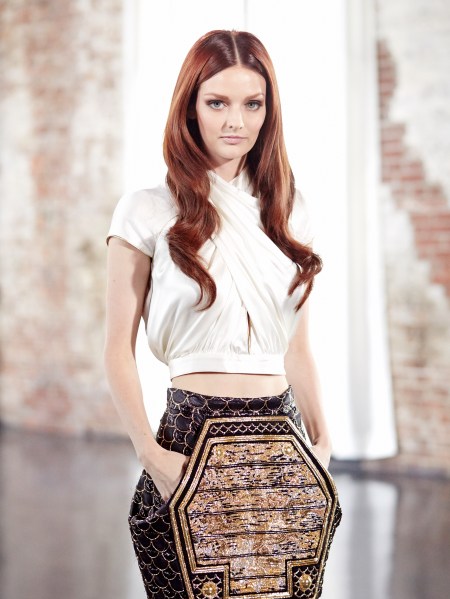 Her mother, Patty, had done some runway work, and young Ms. Hearst was drawn in by the glamour and spectacle.
"I became interested in fashion when my mother did a runway show for Thierry Mugler," Lydia Hearst recalled. "I was about 10, and every supermodel was in the show at that time." She vividly recalls her mother appearing onstage in a constrictive suit, only to rip it off revealing an outfit constructed of sequins beneath it. "It was truly a show," she explains. And the kind of show that would make any young woman want to be a model.
While mom was enthusiastic about her daughter following in her footsteps, she wanted to make it clear that modeling is not an easy path. At the agency, Patty pointed to one wall that showed pictures of dozens of women and explained that those were all girls who were trying to make it. Then she pointed to another wall that held just three photographs. "Those are the girls who have made it," she told her daughter. "It's 99 percent rejection."
The dismal odds didn't intimidate the aspiring cover girl. "I looked at my mom and said, 'This is what I'm doing, and I'm going to make it happen,'" she recalls. 
She has been making it happen ever since. Her rise to prominence in the modeling industry was swift.Six months after starting work as a model, Ms. Hearst was on the cover of Italian Vogue, photographed by Stephen Meisel. Within a year, she was working with Louis Vuitton and Prada. She has appeared in nine international publications of Vogue, walked for brands like Chanel and Fendi and even posed topless in one very saucy issue of German GQ. 
Now she's mentoring young models on the Oxygen reality program The Face. The show, going into its second year, has three established supermodels teach 12 hopefuls what they need to make it in the industry. 
One lesson drawn from Ms. Hearst's own professional path: One needn't look like every other face out there. 
"There was a solid six-month period where I was going out on castings and I was laughed out of the room because I'm much more petite than other models," said Ms. Hearst. Her diminutive size—by model standards—meant that at times she had to Super Glue her feet into the often oversize shoes provided for runway models.
"The one thing that proved to be a trouble in the beginning is that I'm naturally quite curvaceous," she said, confessing that the casually oversize sweater she wore to the interview had been chosen to make her appear less busty.  
"After so many years of working in fashion, I've become skilled in masking that fact. I had to learn how to dress and create an optical illusion where you're more slender. I'm extremely petite everywhere—except for my T&A."
Sipping green tea with The New York Observer at Blue Ribbon Sushi Bar & Grill, Ms. Hearst appears pixie-like, her large furry earmuffs covering her red hair. She exhibits a restraint surprising for someone who walked an Agent Provocateur runway wearing only pasties. 
"I have my parents to thank," she admits. "They were not my friends. They were my mom and dad, and they made sure I stayed grounded and made sure I went to school and continued my education. I wasn't running amok like these 18-year-olds are doing today. I was still their little girl, and I am to this day." 
Not everyone is so lucky. In recent years, it has become clear that modeling can take an extreme physical and emotional toll on young women. Films like Girl Model and the work of the Model Alliance (which is backed by major models like Coco Rocha and Milla Jovovich) expose the less glamorous side of the industry.
Underage models can face excessively harsh working conditions, such as 18 hour days and pressure to diet excessively or do drugs to keep their weight down. Worries about young models facing sexual harassment without recourse are also prevalent. The photographer Terry Richardson has been the subject of many of these accusations. Jamie Peck wrote in TheGloss.com that, when working with him, "I'm not sure how he maneuvered me over to the couch, but at some point, he strongly suggested I touch his terrifying penis." Model Rie Rasmussen also accused Mr. Richardson of sexually harassing young girls in the New York Post. 
In regard to Mr. Richardson, Ms. Hearst, who posed topless for him, said, "I have never known him to be anything but the utmost respectful photographer and one of the kindest people I've ever worked with." 
Nevertheless, she urges young models and their parents to use caution at any shoot. "When you're 16, you should have a guardian or an agent there [on set]," she said. "You're not an adult, so there should be an adult supervising. If there's not, there are other issues going on there."
However, she doesn't relieve the models themselves of responsibility for putting themselves in bad situations.
Ms. Hearst says, "If somebody were to feel the necessity to reduce themselves to a desperate state to achieve what they perceive to be their goals in life, people who work in fashion, who are models or photographers, shouldn't be judged because of untoward acts of others. As the saying goes, it takes two to tango."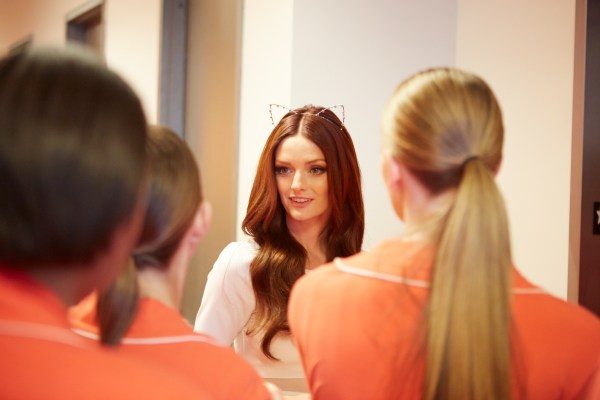 However, not all young women may be as self assured when dealing with industry power players as Ms. Hearst was. Accordingly, instilling the confidence to avoid dangerous situations is one of the skills Ms. Hearst is trying to teach the models she will be coaching on the Oxygen reality program The Face. While she can't make every girl into the show's winner, she does impart certain survival skills. "You can teach people to trust themselves," she says. "And try to eat healthy and exercise and acquire skills. It all factors back into your life and your career."
Today, she's hard at work developing her own career and is expanding her repertoire into more acting. Recently, she worked with Balthazar Getty, another member of a preeminent American family, in an upcoming Tara Subkoff film. Mses. Hearst and Subkoff are already well acquainted from the time Ms. Hearst walked in Ms. Subkoff's 2012 Imitation of Christ show, so perhaps she'll get to live through this film. 
The one horror she is happiest to avoid today? "I enjoy not having to glue my feet into the shoes these days!"