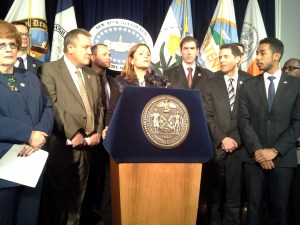 Council Speaker Melissa Mark-Viverito, joined by a large contingent of the City Council, slammed State Senator Dean Skelos this afternoon for threatening to block a vote on Mayor Bill de Blasio's signature proposal to increase taxes on the rich to fund universal prekindergarten.
Mr. Skelos, the Republican co-majority leader of the State Senate, said yesterday he would not allow a vote on Mr. de Blasio's plan to hike taxes on high income earners to fund pre-K and after-school programs. Hoping that public pressure can sway Mr. Skelos and his Republican colleagues, Ms. Mark-Viverito, a key de Blasio ally, rallied her troops at City Hall to press the cause.
"Senator Skelos, I say this: Don't deny New York City children this critical opportunity. Do the right thing and allow a vote," Ms. Mark-Viverito told reporters. "This is a local, municipal matter and the arguments that Mr. Skelos raises have been invalidated by statistics."
In addition to the Senate Republicans, Gov. Andrew Cuomo has balked at backing Mr. de Blasio's funding plan, instead promising to fund the expansion with state funds instead. Mr. de Blasio and his backers argue a dedicated funding stream like a tax is the only reliable method to fund the city's pre-K expansion. A city income tax increase must be approved in Albany. 
Ms. Mark-Viverito, when pressed, avoided calling out Mr. Cuomo directly, aiming her ire at Mr. Skelos, just like Mr. de Balsio. She said, however, she would "love" for Mr. Cuomo to call a vote on Mr. de Blasio's pre-K plan. 
"I would love the Governor to be able to call, to ask for a vote on the floor," she said. "We would welcome that."
In addition to backroom wrangling, the new mayor is banking on a highly public campaign to make his proposal, which was the centerpiece of his campaign last year, a reality. Labor unions and prominent liberal allies, as well as Assembly Speaker Sheldon Silver and Senate Co-Majority Leader Jeffrey Klein, have loudly backed the proposal, as have local clergy leaders. But without Mr. Cuomo and Mr. Skelos' rubber stamp–Mr. Klein leads a faction of breakaway Democrats who partially govern the Senate with the GOP–Mr. de Blasio's tax hike seems unlikely to pass.
The City Council is nonetheless undeterred and is planning to pass a resolution soon to support Mr. de Blasio's universal pre-K plan. Enacting the resolution would be largely symbolic, but the council is hoping their collective call will help nudge the state legislature. 
"Forest Hills and Rego Park isn't what it used to be. People are there struggling. I lived in Forest Hills and I struggled in Forest Hills and those people are there and more of them are there," said Councilwoman Karen Koslowitz, who represents Queens. "So my statement to Dean Skelos is: shame on you."