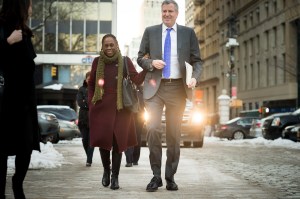 Is it six-foot-five or six-foot six?
Bill de Blasio, the towering mayor of New York City, is not completely sure about his true stature, he revealed to reporters today.
A week ago, The New York Times ran a front-page story revealing Mr. de Blasio stands a full seven-eighths-of-an-inch taller than his widely-established six-foot-five frame. Asked about the report at an event in Harlem today, Mr. de Blasio suggested the latest measurement process–conducted by his wife, Chirlane McCray–may have lacked scientific precision.
"In full transparency, I'm minding my own business and I'm in … my living room and the First Lady ordered me, in no uncertain terms, to stand by a closet which she had made markers on at different levels with her tape measure," explained Mr. de Blasio, who had his staff construct a special built-in, slide-out step for his mayoral podium to accommodate shorter public officials at events.
"So she put them on the wall and made me wear my socks only–not shoes–and I stood against the wall. And she has declared now this new height," he said.
"It's indicated in one of the articles that this was like a systematic effort. I'd just like to say that this was Chirlane with her tape measure and a pencil," he cautioned, adding, "I personally have not had that verified by other sources but I have no reason to disagree with the First Lady."
 "I would never ever disagree with the First Lady in public," he reiterated. "So I guess that's my new height now."
Mr. de Blasio's far shorter predecessor Michael Bloomberg's height was a source of speculation, especially after a report indicating he had exaggerated his true height on his driver's license.