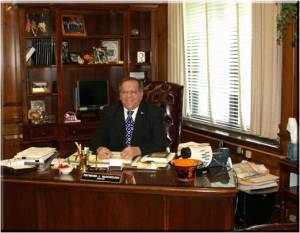 Veteran Harrison Mayor Ray McDonough has died, according to a report in the Jersey Journal.
The mayor suffered a massive heart attack at town hall.
From the report: "The municipal building was closed for the Lincoln holiday but McDonough met with town officials this morning and they then went to lunch, according to Paul Swibinski, founder of Vision Media, a media and consulting firm, which has the pulse of the Hudson County Democratic Party. The mayor went back to his Town Hall office and collapsed, said Swibinski."
Leader of Harrison for two decades, Mr. McDonough was the first Democratic mayor last year to formally back the re-election of Republican Gov. Chris Christie.
Assembly Speaker Vincent Prieto (D-32) released the following statement on the death of Harrison Mayor Ray McDonough:
"Ray McDonough was a great friend to so many of us throughout Hudson County and an extremely strong advocate for the town of Harrison. He always stood up for the middle class and working men and women and had a great deal of integrity and compassion. He will be greatly missed and I would like to extend my deepest condolences to his family and the town of Harrison."
North Bergen Mayor and State Senator Nick Sacco (D-32) also issued his condolences.
"I worked with Mayor McDonough very closely as the Senator representing his town over the last twenty years and he was one of the most dedicated public servants I have ever met," Sacco said. "He always put Harrison first and did whatever he could to make his home town a better place. He will be deeply missed."