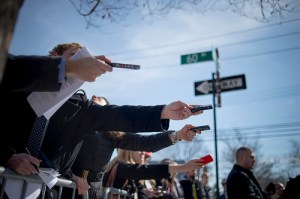 Mayor Bill de Blasio, enduring a recent string of mini-controversies, told reporters today that he wished the media would focus less on "sideshows" and more on his substantive policy goals.
Fielding questions at a Hurricane Sandy-themed press conference in Staten Island, Mr. de Blasio said he understood the scrutiny he receives is natural given his responsibilities, but implied it's often unwarranted. 
"I think the notion is there's going to be scrutiny again is baked into this whole reality and, you know, if you don't like the heat, get out of the kitchen, as Harry Truman used to say. And I chose to take the heat," Mr. de Blasio said. "I think there has to be a different examination of what matters and what doesn't matter."
"Too much of the time the debate veers away into sideshows but I'm not shocked by that," he added.
While Mr. de Blasio remains relatively popular after his overwhelming electoral victory last year, his young administration has been buffeted by a series of controversies since he took office. Mr. de Blasio was criticized in the press for making a phone call to the NYPD on behalf of a political ally after he was arrested. He was also hammered by famed weatherman Al Roker for keeping schools open during a recent snowstorm. And Mr. de Blasio's caravan was caught by television cameras last week as it ran stop signs and broke the speed limit just days after the mayor unveiled a comprehensive traffic safety platform.
But Mr. de Blasio, whose relationship with the City Hall press corps seems to be cooling, appeared frustrated that more attention and praise wasn't being heaped upon his signature policy goals, like keeping cash-strapped hospitals open and rebuilding after Hurricane Sandy.
"Today we're talking about preparing our city against further natural disasters, we talked about trying to help thousands and thousands of people back on their feet," he said. "On Friday, we're talking about saving community health care and hopefully resetting a dynamic where we've lost over a dozen hospitals in the last 12 years. These are issues that fundamentally affect people's lives and I think that's where the public debate should reside."