Richard Born has made a career out of providing other people with places to lay their heads—from the budget-conscious bunks of the Pod Hotel to the lavish, faux-threadbare suites of the Bowery. But after long tending to the lodgings of tourists and visitors, Mr. Born is finally looking after his own needs. And looking after them very well, indeed. The hotelier and wife Deborah have spent the startling sum of $18 million on a floor-through at 1020 Fifth Avenue.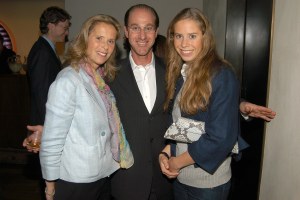 If we've calculated it correctly, that's the cost of approximately 36,000 nights at the Bowery Hotel, which last we checked, averaged around $500 a night. Nor do the $9,700 a month common charges on the floor-through include maid service or pillow mints. But then, unlike so many of the poseurs who can be found hanging around the lobby/bar of the Bowery and Mercer or the infamous rooftop pool of the Gansevoort, 1020 Fifth is a place where the true power brokers congregate. (The board makes sure of that.) On a strip of extremely rarefied real estate, 1020 Fifth is known "for the extreme wealth and pedigree of its inhabitants."
And the 8th floor that the Borns can now claim exclusively of their own, a truffle of an apartment that features a 20 by 40 salon overlooking the Metropolitan Museum, is so exquisite that it occasioned the normally-staid New York Times to gush over its "Versailles-style salon" and "Fabergé-egg" intricacy when the estate of Dr. Mona Ackerman listed the confection for $25 million last April. Corcoran's Sharon Baum and Hilary Landis, who represented the seller, went so far as to boast that "there is virtually nothing else which compares to it—now or ever, on the market."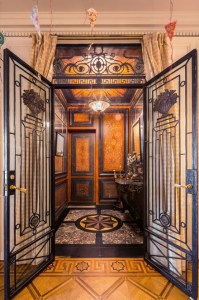 We are inclined to agree. At least, we have never seen leather-loving designer Peter Marino, whose work is known for its masculine brio, produce something with quite so much delightful, delicate frippery—Louis XIV paneling in the salon and gilding, gilding everywhere. The home, which has four bedrooms, five baths and more staff rooms than most modern mega-millionaires would know what to do with, might seem like an odd choice for a man who built his fortune catering to the young and the hip. But then Mr. Born seems to have an innate understanding of how to use select slices of the past to burnish the present—i.e. the carefully curated atmosphere of a place like the Bowery Hotel.
Besides, Ms. Born, a consulting gemologist, no doubt found something to love in the literal jewel-box interiors of the pad. And the move doesn't require that the couple get to know a new neighborhood, they hardly have to get to know a new block—on the deed, the Borns list their current address as 1010 Fifth.