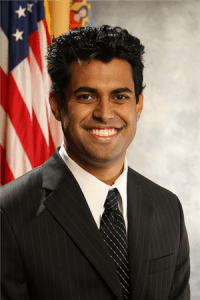 MANALAPAN – Monmouth County Democratic Chairman Vin Gopal reacted to the arrest of Republican former Manalapan Mayor Andrew Lucas on Friday by questioning the use of taxpayer funds by Lucas and local officials.
"The scandal involves the use of taxpayer-funded programs for a land deal that funneled $1.2 million dollars directly into the pockets of Lucas – with the help of the local and County Republican politicians," Gopal said in a prepared statement. "In order to receive the money, the deal was approved by the Republican-controlled Monmouth County Freeholder Board."
The former Republican mayor of Manalapan was arrested on Friday on charges that he submitted falsified 2007 and 2008 tax returns in order to purchase a farm property in Manalapan and that he provided federal investigators and a federal grand jury with a fabricated document in 2013, U.S. according to U.S. Attorney Paul J. Fishman.
Lucas, 36, was arrested as a result of an 11-count indictment charging him with wire fraud, illegal monetary transaction, loan application fraud, false statements to the IRS, aggravated identity theft, obstruction of a grand jury investigation and falsification of records in a federal investigation.
Lucas is scheduled to make his initial court appearance this afternoon before U.S. Magistrate Judge Douglas E. Arpert in Trenton federal court.
In March 2013, the all-Republican Monmouth County Board of Chosen Freeholders narrowly voted 3-2 to release just more than $277,000 from the county's Open Space Trust Fund for the county's share of the price tag for the development rights to a 97-acre farm on Iron Ore Road in Manalapan owned by Lucas. Lucas, a former Manalapan mayor and
committeeman who has also run unsuccessfully for Freeholder, was paid a total of nearly $1.2 million for the development rights to his farm.
Freeholders Lillian Burry, Gary Rich and Serena DiMaso voted for the purchase in March 2013, while Tom Arnone and John Curley voted against it. Lucas hosted a fundraiser for Burry on the farm in 2011.
Lucas resigned from the Manalapan township committee in October 2013 without providing a reason.
Monmouth Republican Chairman John Bennett and Freeholder Burry could not be immediately reached for comment.