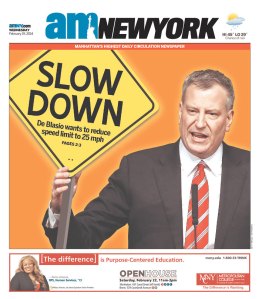 Lede of the Day: "It's official: the history of douches in New York can now be traced back to City Hall."
Headline of the Day: "Dublin Pride organisers invite New York Mayor to take part in annual march."
The New Republic profiled the Working Families Party's role in Melissa Mark-Viverito's victory in the council speaker's race. "It only happened because there was two years or six years of sitting at a table, working, week after week, deliberatively developing a strategy, building a level of trust that is not a normal political way of operating," said one participant in the process.
Councilman Vinny Ignizio, a Republican and a member of Ms. Mark-Viverito's leadership team, went on Inside City Hall to discuss his role in the progressive-dominated body. "My voice is to be the respectful voice of dissent–be that to the mayor, be that to the speaker, be that to the city as a whole. There are a lot people in this city that believe we're going the wrong way," he said.
On the same program, former mayoral hopeful Bill Thompson defended Bill de Blasio's controversial NYPD phone call. "All of us have done something and been helpful to somebody–whether they were a supporter or not–that you've lived to regret. I think in the end, the mayor is just understanding that anytime the mayor calls anyone, it is different than it was in the past."
"What does a 'progressive' city budget look like?" City & State asked as it delved into Mr. de Blasio's budgeting philosophy. "Is maintaining unsustainable pension and health benefits for public-sector workers—benefits no longer available in the private sector—really progressive budgeting?" questioned Nicole Gelinas, a senior fellow at the Manhattan Institute.
John Catsimatidis is keeping his "options open" regarding another run for mayor. "I've known Bill de Blasio for 20 years, and I hope he does a good job," the billionaire told The New York Times. "But I love politics; I love people; and if an open seat comes along that I think I would enjoy, I would definitely do it. I want to be in a position to make a difference."
Assemblyman William Boyland's corruption trial continues: "'A seething federal judge blasted Assemblyman William Boyland Jr. Tuesday for sending a creepy text message … 'Love ya sis,' Boyland wrote to his estranged former campaign treasurer last Thursday after she told jurors that his shady bookeeping prompted her resignation, prosecutors said Tuesday.
And people are still bidding on the infamous "forkgate" fork.