Nancy Holt, a pioneering artist who could create monumental Land Art masterpieces and 6-minute videos with equal aplomb, died on Feb. 8 in New York at the age of 75. 
"She was the nicest, kindest, warmest person imaginable," said critic and curator Phyllis Tuchman, who had known Ms. Holt and her late husband, the artist Robert Smithson, for decades.  
Ms. Holt went into the hospital almost immediately after returning to her home in New Mexico following an October award ceremony in New York, where she received a lifetime achievement award from the International Sculpture Center, according to Ms. Tuchman. She continued to spend time in the hospital there and to receive treatment in New York; a cause of death was not immediately available.
Ms. Holt's final project was editing The Making of Amarillo Ramp (2013), a film that is currently on view in the exhibition "Robert Smithson in Texas" at the Dallas Museum of Art. "It was amazing, while she was in the hospital, she was editing this film," said Ms. Tuchman. Shot with a Bolex camera on 16mm color stock film in 1973, the piece chronicles the creation of Smithson's only Texas earthwork, a massive crescent of sandstone rock that once emerged out of an artificial lake. Ms. Holt, along with artist Richard Serra and dealer Tony Shafrazi, completed the ramp, which was unfinished at the time of Smithson's death, in 1973. 
"The film is absolutely astonishing, unbelievable," said Ms. Tuchman, who worked closely with Ms. Holt over the past several years as she planned "Robert Smithson's New Jersey," which opens Feb. 23 at the Montclair Art Museum. "It's a major contribution to American art history of the last 50 years."
Ms. Holt spent part of her childhood in Clifton, N.J., and met Smithson when they were both in grade school, though they wouldn't reconnect until 1959 when they met again in New York City. The two worked closely together up to Smithson's untimely death in a plane crash when he was 35 years old. 
"She was just so intelligent," said Ms. Tuchman of Ms. Holt's adroit handling of Smithson's legacy. "It wasn't that she just kept the flame alive, but Nancy was actually part of the work and that I think has been underemphasized."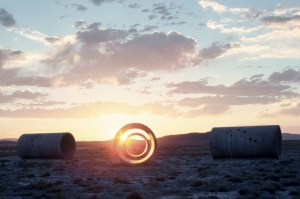 Ms. Holt was recently the subject of a retrospective, "Nancy Holt: Sightlines," that traveled to the Santa Fe Arts Institute, the Utah Museum of Fine Arts and her alma mater, Tufts University, among other venues. The exhibition included collaborative videos like Swamp (1971) in which Smithson verbally guides Ms. Holt and her camera through a marshy wilderness and Boomerang (1973), which Ms. Holt made with Mr. Serra. 
Her best known piece, Sun Tunnels (1973–76), lies on 40 acres in Utah's Great Basin Desert. Comprised of four 22-ton concrete pipes, each measuring 18 feet, the piece is oriented toward the sunrises and sunsets of the winter and summer solstices. The tops of each tube are perforated such that, during the day when sunlight streams through them, the constellations Draco, Perseus, Columba and Capricorn are projected inside.
After finishing the piece, Ms. Holt spent days sleeping in a Volkswagen camper van recording the effects of light on the sculpture. "I would watch sunrises and sunsets and the stars at night, which were incredible–you could get lost in them," she told The Telegraph. "When you're alone in the desert, you're ageless, timeless. You start to lose a sense of being contained in your body."