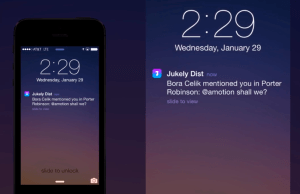 Jukely starts the conversation Jukely is pretty cool—it scans your social media accounts to determine which friends share your music tastes, and then recommends nearby concerts to you and your friends. The app just unveiled a new group chat feature, which allows users to talk to their friends and organize trips to concerts without having to exit the app.
VUBE wants you to win In honor of completing its first (very successful) year, viral video engine VUBE has partnered with everyone's fave international celeb, Enrique Iglesias, for a contest. Users are being asked to submit videos for Mr. Iglesias' new song, "I'm a Freak," and the site will give out a combined $15,000 to the top five most-liked entries. The prize for first place is $10,000, so start channeling your inner Enrique.
BloomThat is growing BloomThat, the San Francisco startup that lets you send really nice flowers to people in a really short amount of time, recently announced it raised $2 million in funding. As of now, New Yorkers can only use the app if they want to send flowers to somebody in the Bay Area, but on the bright side, that means you still have time to send flowers to your secret Silicon Valley crush for Valentine's Day. The new funds also set up BloomThat to expand to other cities, and New York is apparently high on the company's list.
Vungle raises funds Vungle, the in-app mobile video advertising platform, recently announced it has secured $17 million in Series B funding. Let by Thomvest Ventures, the fundraising initiative also saw participation from Google Ventures and AOL Ventures, among others.
Find a date in a Pinch Also just in time for Valentine's Day, there's a new dating app on the market called Pinch: Social Matchmaking. If you're single, the app lets you browse through your Facebook friends and friends of friends, "pinch" yourself together with anyone who tickles your fancy, and then wait to see if they approve the "pinch." If you're taken, the app lets you play matchmaker a la Patti Stanger by letting you "pinch" together two friends you think would make a swell pair.