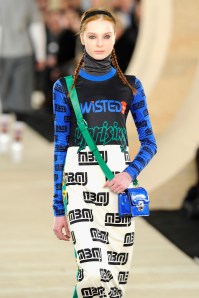 Marc Jacobs' offshoot brand, Marc by Marc Jacobs, surprised the fashion crowd yesterday with an extra-masculine and not-that-wearable line influenced by Power Rangers and BMXers.
Designer Katie Hillier told Racked on Tuesday:
 "I started with Power Rangers… I wanted to get across this youthful but strong attitude. [She's] a girl with character and independence from other girls." Other hints at what will be shown tomorrow include references to ninjas, samauris [sic], and BMX chicks, obi belts, colorful sneakers, and a host of new accessories."
We can totally see that. It's just that we also detect a hint of post-apocalyptic conspicuous consumerism gone mad, with entire outfits functioning as flashy advertisements. 
Basically, the clothes look just like those sported by Luke Wilson, Maya Rudolph and the rest of the cast of Idiocracy, the terrifyingly prescient future flick from 2006. Here's Idiocracy:
(Screengrab: imfdb.org)
And here's Marc by Marc Jacobs' fall and winter ready-to-wear 2014: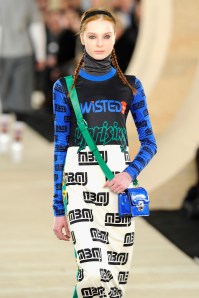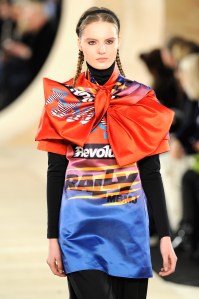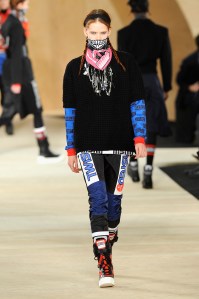 Of course, there are other, less flashy outfits in the line. But these are the ones catching our eye. Is it a tongue-in-cheek comment on labels whose clothes look like billboards? Probably.
But if it's an actual move in the direction of Idiocracy, a world where logos rule and plain T-shirts are a thing of the past, we hope that means we can start solving all our problems with Gatorade and monster truck rallies.