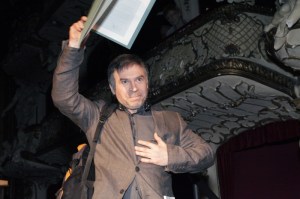 The New Museum's Paweł Althamer retrospective "The Neighbors"–the artist's first U.S. museum exhibition–opens Feb. 12. In addition to sculpture, the medium for which Mr. Althamer is perhaps best known, the show will include some of the artist's community-based public performances: in this case, a coat drive for the New Museum's neighbor, the Bowery Mission (visitors that bring "new or gently used" men's coats will receive free admission), and a group of more than 50 street musicians, who will be heard performing over the course the exhibition.
"Right now they're in the lobby," said Gary Carrion-Murayari, who curated the show with Massimiliano Gioni. "It's pretty cold outside." (The music will be pumped through speakers on the third floor of the museum.)

In addition, Mr. Althamer and several of his collaborators will be on site for the duration of the show. He will set himself up in a workshop on the fourth floor of the museum, creating new work for the exhibition as it goes on. The fourth floor will also feature Mr. Althamer's contribution to the 2012 Berlin Bienniale, Draftsmen's Congress, in which a blank gallery will be transformed by degrees through paintings and drawings made by visitors and 70 community organizations.
"Most people know his work from isolated sculptures in New York," Mr. Carrion-Murayari said. "This will be the full picture."