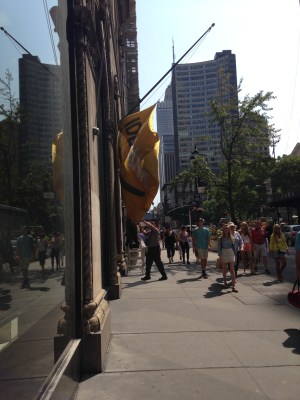 TRENTON – State Democratic Chairman John Currie announced the hiring of two new staff members on Monday to gear up for the 2014 election campaign cycle. Chris James was tapped to be the new New Jersey Democratic State Committee Executive Director, and Jennifer Holdsworth (pictured) has been named as the new Political Director.
"I am excited to announce the selection of two very skilled new employees, both of who have dedicated themselves to Democratic principles and to public service in New Jersey. I have known Chris James for many years and he has always shown a strong work ethic and a passionate focus on improving his community," Currie said. "Similarly, I am impressed by Jennifer Holdsworth's intelligence, her work as a lawyer and advocate, and her efforts supporting New Jersey Democrats. I welcome them both to my team."
James, an East Orange city councilman, has been involved in government, policy making and community organizing for the past 15 years. His late mother was chief of staff to the late U.S. Rep. Donald M. Payne, Sr. James last served as Deputy Executive Director of the New Jersey Assembly Democratic Office. He also worked as Chief of Staff for Assembly Speaker Sheila Oliver (D-34) and for Obama for America.
Holdsworth also joins the state Democratic committee team from the ranks of the state Assembly staff, where she worked as director of policy and communication in the office of Assemblywoman Valerie Vainieri Huttle (D-37). She has served as clerk to the Bergen County Board of Chosen Freeholders, and worked in the office of former U.S. Rep. Steven Rothman (D-9) as well as for other respected leaders in northern New Jersey. A 14-year veteran of Democratic campaigns, Holdsworth earned her law degree from Seton Hall University and graduated from Rowan University.
The two new hires replace the outgoing Executive Director Justin Myers and Deputy Executive Director Jenny Davis. Myers was hired as Deputy Campaign Manager for U.S. Sen. Kay Hagan (D-NC), who is facing re-election in a key battleground state. Meanwhile, Davis was tapped as Political Director for the National Jewish Democratic Council in Washington, D.C.
"Justin Myers and Jenny Davis made for a dynamic Democratic duo and their assistance was critical to our state party's efforts. They helped me transition into the role of state chairman last summer, provided sound counsel and diligent service, and kept their cool during a challenging campaign cycle," Currie said. "I am glad that their work paved a path to new endeavors, but I am also sad to lose them. I know that Justin and Jenny remain committed to New Jersey."