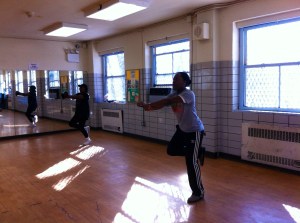 No one wants to work out on Valentine's Day.
The Observer checked in on three different fitness events hosted by the NYC Parks Department, which is holding more than 40 free exercise classes today in recreation centers across the five boroughs.
Shape Up NYC, the department's fitness program, opened different intensity workouts to the public as part of the "Heart of the Community" event. (On a normal basis, members pay 25 to 150 dollars annually, depending on their age bracket.) Activities like resistance stretching in Staten Island, senior citizen yoga in the Bronx, rollerskating in Brooklyn and a ballet workout in Queens catered to ladies, gentlemen and children of all ages—except they were nowhere to be found on V-day.
At 9 a.m. at the St. John's Recreation Center in Brooklyn, only one woman, 70-year-old Juanita Hemingway, showed up for the adults' Power Walking class, held indoors during the winter. A regular at the center, the lone Ms. Hemingway kicked, sidestepped and marched to the guidance of her instructor: a DVD on the wall-mounted television. Midway through the one-hour workout, a parks volunteer joined her, and later chatted her up about whether or not the other regulars would show up. "The seniors are not coming out!" the septuagenarian said at 10:15 a.m. "If the ladies were coming, they'd be here by now."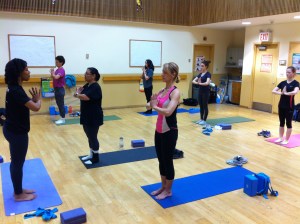 Later in the morning at Manhattan's Asser Levy Center, turnout seemed to be looking up. A mix of members and newcomers showed up—ten girls for a Zumba workout, and eight for the succeeding yoga session. According to deputy center manager Danielle Goldfarb-Bedrick, the same classes pull in 10 people on the average.
But by noon at the Sorrentino Recreation Center in Far Rockaway, deputy center manager Shannon Montgomery said they noticed there was no one in to teach a scheduled ballet class. "So we just sort of let people come in and play basketball," she said.
For those still figuring out what to do with their vacant schedules tonight (ouch), rollerskate and breakdance sessions have yet to go down in Brooklyn and the Bronx. Or just watch House of Cards like everyone else.
(Find the up-to-the-minute schedule here.)