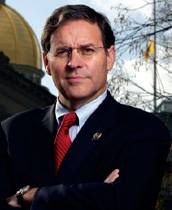 Jon Bramnick: Assembly Minority Leader
Strengths: Kean's district-mate has proved very successful at building relationships on both sides of the aisle. He has the advantage right now of having built statewide contacts toward a run while not actually suffering the aftereffects of the standard GOP loss.
Weaknesses: A raging moderate, he has to be careful in a GOP Primary, and could face opposition from movement conservatives offended by his politics.
Prognosis: If Kean doesn't run, watch for him to run.