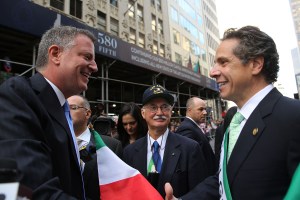 New York voters prefer Gov. Andrew Cuomo's plan to fund universal pre-K with existing state money over Mayor Bill de Blasio's plan to raise funds by taxing the rich, according to a new poll that is the latest bad news for the mayor's signature plan.
A new Quinnipiac University poll out this morning shows that city voters back the governor's plan to fund pre-k with no new tax over Mr. de Blasio's plan to tax the city's highest-income earners by a 49-40 percent margin–just within the poll's margin of error. The number is higher, 47-37, across the state.
The numbers clash with Mr. de Blasio's claim that there is a wide popular consensus behind his plan ("Look at every public opinion poll. The people of New York City have spoken," he said yesterday) and come as his plan faces increasing resistance in Albany, with Senate co-leader Dean Skelos saying he will not bring it to a vote.
Meanwhile, voters state and city-wide are widely in favor of the idea of state government funding universal pre-K "so that all New York State children can attend pre-school"–with most believing it would be "very effective" or "somewhat effective" in improving education and putting poor children "on a path out of poverty."
"Just about everyone in this most liberal of states likes universal pre-kindergarten and they think—overwhelmingly–that kids will learn and that it will help them out of poverty," said Quinnipiac pollster Maurice Carroll. "But voters prefer Gov. Andrew Cuomo's no-new-taxes approach to New York City Mayor Bill de Blasio's tax-the-rich plan to pay for those new classes."
"Voters closer soul mates to Gov than Mayor de Blasio," the firm's release declared.
Nonetheless, city voters say they are more closely aligned politically with the mayor than the governor, with 44 percent saying they identified with Mr. de Blasio, versus 38 percent with Mr. Cuomo. (Mr. Cuomo has a strong edge across the state.)
Fifty-one percent of New York City residents said they had an overall favorable opinion of Mr. de Blasio.
The poll of 1,488 state voters, which was conducted from February 6 through 10, has a margin or error of plus or minus 2.5 percentage points for state-wide results. City results, which represent about 550 voters, have a larger margin of error of plus or minus 4.66 percentage points.
Update (11:23 a.m): Despite what would seem like disappointing numbers, the UPKNYC campaign advocating for Mr. de Blasio's tax plan issued a press release touting the results:
"Momentum for high-quality universal pre-K continued to build today as 78% of voters told Quinnipiac University pollsters that universal pre-K would be 'very effective' or 'somewhat effective,' in improving education for children," reads the release, titled "POLL CONFIRMS NEW YORKERS WANT QUALITY, UNIVERSAL PRE-K. Debate Shifts From 'If' to 'How' as More Momentum Builds for Early Education." (Of course, the dispute between the mayor and the governor has always been about how.)
Update (11:45 a.m.): de Blasio spokeswoman Marti Adams also touted the results.
"Today's poll shows that New Yorkers from across the political spectrum want universal pre-K and a real plan to provide it," she said in a statement. "And make no mistake: New York City's proposal is the only plan on the table that would provide sufficient and sustainable funding needed to make high-quality early education truly universal."
View the full results below:
[scribd id=206648533 key=key-22vkvcnlt4413jkvjlac mode=scroll]