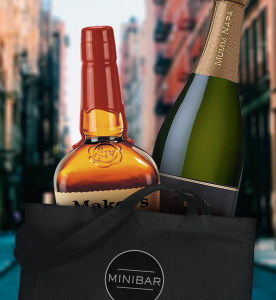 Just in time for Match.com's oft-depressing Singles in America study and a fresh batch of snow and ice outside, there's a hot new way to drown your sorrows in the privacy of your own overpriced apartment. It's an on-demand booze delivery app!
Called Minibar, it launched today and allows users in Manhattan and Brooklyn to order whatever kind of wine and liquor they damn well please. The app guarantees free delivery in under an hour.
Minibar has partnerships with wine and liquor stores throughout Manhattan and Brooklyn. The selection is different depending on where you live. Beer partnerships are coming soon, a spokesperson tells us.
Users enter their zip codes then select a wine or liquor, pick a brand, and check out. Download and delivery are free. The cofounders and co-CEOs, Lara Crystal and Lindsey Andrews, say they hope the app will resonate with New Yorkers.
Vendors delivering the bottles are responsible for checking the IDs of their customers. If you fail to provide adequate proof of age, there's no booze for you and you'll be subject to a $20 restocking fee.
Betabeat took the liberty of ordering a bottle so that we could more accurately speak to the app's quality. Here in the 10036 zip code, wine and liquor were available for delivery starting at 10 a.m., to which we said, "Damn."
Where most of our reporters live in Brooklyn, though, delivery would not have been possible until 2 p.m. Hardly a dealbreaker.
The app is user friendly and chic. So far so good. Just don't talk to us after we pop the bottle later.