Bullets and beauty aren't usually paired together.
But jewelry designer Maria De Diego has found a way to mix these elements, creating a powerful jewelry collection. The edgy and elegant pieces do more than just enhance a plain shirt. A portion of sales is donated to a campaign to end gun violence.
Ms. De Diego's store, Bobby Pin, is located in Little Italy and sells hand-made men's and women's jewelry and hair pieces made with warm, vintage materials. The company's first collection is made with ammunition and re-purposes the use of bullets. Ms. De Diego began working in the medium after being inspired to turn a military medal into a necklace, to be worn by descendants of the recipient of that medal.
As shootings began to dominate the news, Ms. De Diego shifted her focus to call attention to these tragedies. 
"To me, it's shocking that there is so much gun violence and nothing being done with laws," Ms. De Diego told the Observer.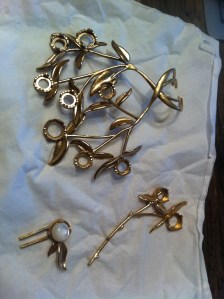 Ms. De Diego worked with her employees, Susan Schell and George Swanke to design approximately 42 pieces, ranging from $25-$370, named for different shootings around the country. The company also designs bespoke pieces for up to $900, such as a breastplate designed with sinewy chains. To give the jewelry a unique name while still referencing the locations where the crimes occurred, Ms. De Diego decided to name the pieces by their zip code and state, i.e. 10454 NY. 
"We want every piece we do to be a little more conversational," Ms. Schell said. With distinctly cut stones in an array of colors, the pieces inspire admiration.
Ms. De Diego's ammo accessories are not aimed at the S&M crowd though. Bullets are taken apart and subtly incorporated into pieces, rather than being clunky, butch draperies. 
"We use casings and bullet tips," Ms. De Diego said. "The more you work with it, the more you edit it down to what it needs to be." While each piece has some part of a bullet included, the feature can be as discreet as a casing-top clasp.
Ten percent of the sales from the first collection has been donated to Cure Violence, an organization offering educational campaigns to end gun violence and guidance to people at risk of committing such crimes. While the company's first collection is available online, Bobby Pin also designs custom-made pieces.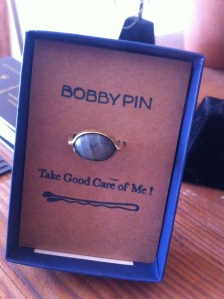 The company  hopes to bring back a love of jewelry as a key accessory, long buried beneath shoe and handbag fetishes. With the slogan "Take Good Care of Me!" labelled on each package, the designers remind customers to treasure their jewelry. 
"People have been wearing great accessories forever. We want to bring that back," Ms. De Diego added.
The company is expanding into custom bridal and wedding jewelry plus a line focusing on touch and sensation, with proceeds donated to foundations helping the deaf or blind.
This dynamic trio has taken pieces of jewelry and transformed them into social movements, family heirlooms and treasured memorabilia.