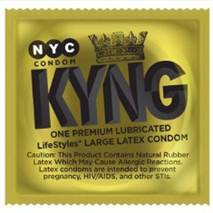 The New York City's Health Department's NYC branded condoms are now bigger and better. Literally. 
For National Condom Awareness Day — which totally by coincidence also falls on Valentine's Day — the Health Department announced that for the first time ever New Yorkers will have the choice of the extra-large "KYNG" condom. 
The Health Department said that high demand at numerous events caused them to add the KYNG to the free line. Good for you, New York. 
"Last year, Health Department staff participated in over 600 community events and presentations, reaching more than 25,000 New Yorkers," the Department said in a release. "At these events, Health Department staff received requests directly from the community for an 'updated look' to the NYC Condom and for a larger sized NYC branded condom."
The "updated look" is the new and blue wrapper for the Lifestyles-made condoms, with a larger NYC brand than in years past. 
These condoms are distributed by over 3,500 New York City locations. The Health Department reports that more than 38 million prophylactics are given out for free per year. 
"The NYC Condom Program has been immensely successful in promoting and encouraging safer sex," said Health Commissioner Dr. Mary Bassett in the same release. "We anticipate that New Yorkers will love the new look and appreciate the new size option. These high-quality condoms will help all New Yorkers protect themselves and their partners."
Both the updated look and the bigger fit are in production, and will be available during the summer. 
Oh, New York, big in every way. It's good to be the KYNG.