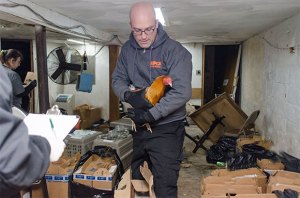 We have seen some high Angry Birds scores, but 3,000 is by far the most impressive.
Attorney General Eric T. Schneiderman announced that the Organized Crime Task Force went after the largest cock-fighting ring in New York State history this weekend, aptly named "Operation Angry Birds."
The operation resulted in 70 arrests, nine felonies, and 3,000 roosters hanging up their fighting gear for good.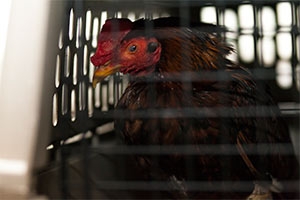 "Cockfighting is a cruel, abusive and barbaric practice that tortures animals, endangers the health and safety of the public and is known to facilitate other crimes," Mr. Schneiderman said in a press release. "My office, along with our partners in law enforcement and animal welfare, are committed to ending this vicious blood sport. This investigation – one of the largest in U.S. history – illustrates the prevalence of cockfighting in America, its brutal nature and the link to other illegal activities." 
The bust was a team effort, with the OCTF receiving aid from the American Society for the Prevention of Cruelty to Animals, the Ulster County Sheriff's office, and the Department of Homeland Security.
Operation Angry Birds, came to a successful conclusion Sunday morning when OCTF investigators raided a Plattekill area farm where more than 3,000 of the fighting birds were being kept.
The cock-fighting take down itself actually took place Saturday night into Sunday morning, when the OCTF burst open a Jamaica area event, complete with bettors and casual spectators.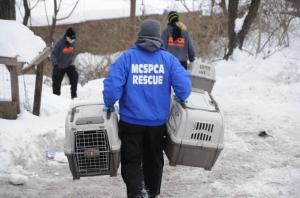 Simultaneously, fifty fighting birds were rescued from a Brooklyn pet shop owned by Jeremias Nieves. In addition to the birds, police found, artificial spurs, candle wax, medical adhesive tape, syringes used to inject performance-enhancing drugs to strengthen the roosters' fighting ability and other cockfighting implements and paraphernalia.
"No animal should be forced to fight to the death for human entertainment and profit, and we are proud to play a leading role in removing and caring for these victimized birds, as well as offering expert legal assistance in this case," said ASPCA President and CEO Matthew Bershadker in the same press release.
We are glad to see such a big step in this fowl operation being stopped by Operation Angry Birds. We aren't even mad they stole our name for most of our Saturday nights. 
This footage, taken in Queens, sheds some hopeful light on the future of these cooped up cocks.
[protected-iframe id="f40a64a8453ee8db56356b254050d0a4-35584880-59143305″ info="http://c.brightcove.com/services/viewer/federated_f9?isVid=1&isUI=1″ width="480″ height="270″]