For many owners of Manhattan trophy properties, the purchase of a dream apartment represents a kind of crowning achievement—a commemoration of stunning success personal or, often enough, familial. For Ronald G. Harrington, however, the $23.419 million it cost to acquire the western penthouse on the 15th floor of the Brodskys' 135 East 79th Street, wasn't particularly onerous, nor did it constitute the most boast-worthy of his expenditures. The Harringtons are known in their native Ohio for philanthropy rather than flash, having donated upwards of $72 million to Cleveland's University Hospitals. His donation to the Brodsky organization is of a different nature, of course, so we doubt that they will be putting Mr. Harrington's name on the building. But given that he is one of the few among us that can, in earnest, say: "Been there, done that," we don't think he'll be too broken up about it.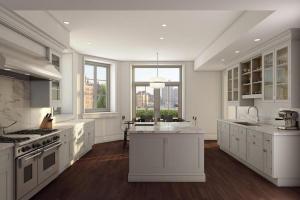 The five-bedroom, 5,086 square-foot duplex opens out of the elevator into a private foyer, which, the listing helpfully suggests, "can be furnished as desired." (Take heart, reader, there will be no compulsory ottomans here!) A reception area, complete with wet bar, seems to have been imagined with Don Draper in mind. (He and Megan live just blocks away, at 73rd and Park, in case you were wondering.) And a dining room, eat-in kitchen and abundant private terrace space offer no shortage of other places to drink and dine. Exposures to the south, west and north find complement within in the form of William Sofield design and a Christopher Peacock kitchen. And let's not forget those hand-carved pear trees outside!
Mr. Harrington and his wife Nancy bought Edgepark Surgical Inc. in 1990, when it was a struggling medical supply company of 34 employees. In 2010, when the Harringtons sold majority interest in Edgepark's parent corporation, the firm had transformed into an industry leader employing 1,200 workers; two years later, Cardinal Health scooped the company for more than $2 billion. Perhaps, out on the terrace, Mr. Harrington can trade business tips with Solar Capital CEO Michael Gross. He lives just two floors up, after all, in a slightly larger penthouse, which he got for about $1 million less.